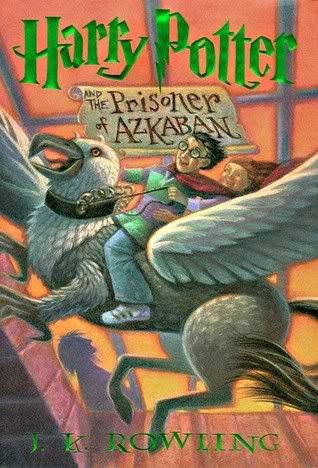 For twelve long years, the dread fortress of Azkaban held an infamous prisoner named Sirius Black. Convicted of killing thirteen people with a single curse, he was said to be the heir apparent to the Dark Lord, Voldemort.
Now he has escaped, leaving only two clues as to where he might be headed: Harry Potter's defeat of You-Know-Who was Black's downfall as well; and the Azkaban guards heard Black muttering in his sleep, "He's at Hogwarts . . . he's at Hogwarts."
Harry Potter isn't safe, not even within the walls of his magical school, surrounded by his friends. Because on top of it all, there may well be a traitor in their midst.
Rating: 4.5 out of 5 boxes
Target Audience: Muggles of all ages
High point: The action and suspense
Reader maturity: 13+
One of the things that I noticed in this book is that Harry's continuing character development seems out of sync with the previous two books. Ron, angry at Hermione over Crookshanks' treatment of Scabbers, stops speaking to her, and Harry does the same, out of solidarity with Ron and later his annoyance at Hermione's interference in the matter of the Firebolt. But the Harry of Years 1 and 2 was patient and forgiving, even when accused of being The Heir of Slytherin, so I found it strange that he so easily turned his back on one of his two best friends.
I was also surprised at Draco's resurgence of pride. After Year 2, his strut was somewhat diminished after the sacking of his father, but apparently his father still held great sway in the wizarding world. I wondered why his disgrace at the Ministry wasn't more permanent.
Lest you think I hold a poor opinion of
HP and the Prisoner of Azkaban
, I don't!! Those are just two of the things puzzling me while I read. Overall, I found Sirius' mysterious escape from Azkaban and Lupin's terms as Defense Against the Dark Arts teacher very exciting. They prove J. K. Rowling's ability to create tension, even over long periods of (book) time and foreshadow some of the events to come. Her descriptions of the Dementors are terrifying and allow for a smooth introduction into the darker side of the wizarding world.
What did you think of
Harry Potter and the Prisoner of Azkaban
? If you've reread it, are your thoughts on it different than before you saw the movie/read the rest of the series? Why do you think Harry ignored Hermione so easily?
Title: Harry Potter and the Prisoner of Azkaban
Author: J. K. Rowling
Genre: Young Adult Fantasy
Year: 1999
Book Source: Purchased