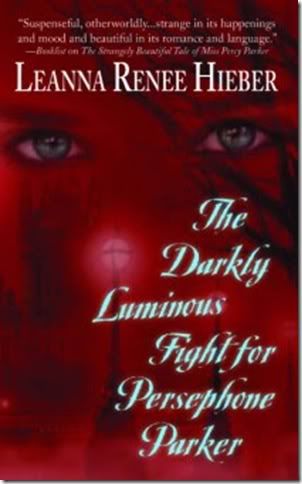 Learning the truth of her mythic past and that of the reincarnated souls called The Guard is only the beginning, for young Percy Parker's destiny is to defend both the world and true love from the gathering undead minions of Darkness.
Rating: 2.5 out of 5 boxes
Target Audience: Paranormal fans of many ages
High point: The creepy gatekeeper
Low point: How very slooooow it was
Reader maturity: 13+
The first book in this series,
The Strangely Beautiful Tale of Miss Percy Parker
, was magical and floaty, carried away on the dreams of Miss Percy Parker herself. The sequel, however,
The Darkly Luminous Fight for Persephone Parker
, missed the mark on the airy, mysterious quality of the first book.
The pacing felt incredibly slow to me and I was irritated every time Rebecca (one of the Guardians) appeared in a scene. Percy didn't seem quite like herself in this one; she was missing some of the hesitation and uncertainty that made her so charming before. This novel also had fewer monsters-of-the-week (or night, depending on their frequency) and had more to do with prophecy fulfillment, which didn't hold my attention as easily (much to my disappointment, as I had been looking forward to this chapter of Percy's adventures). Parts of it were great literary entertainment, like all the action in the underworld and the creepy gatekeeper, and I enjoyed seeing a more of the Guard and their group dynamics.
While this wasn't one of my favorite paranormal novels, it has a decent plot and firm execution--it just wasn't for me. However, I'm still really interested in the Guard, and I want to pick up
The Perilous Prophecy of Guard and Goddess
when it comes out.
Title: The Darkly Luminous Fight for Persephone Parker
Author: Leanna Renee Hieber
Genre: Fiction - Supernatural
Year: 2010
Book Source: Purchased