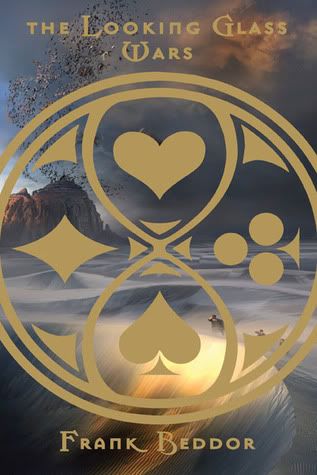 Alyss Heart can't stand that "master of fantasy" bunk; she knows that Lewis Carroll was nothing more than an incompetent reporter. After she generously shared her Wonderland experiences with this fledgling author, he totally botched the retelling, even mangling her name. Alyss, however, refuses to merely grouse; she and royal bodyguard Hatter Madigan decide to make another emergency excursion down the rabbit hole, opening our eyes to parallel realms that prim Rev. Dodgson never imagined.
Rating: 3.5 out of 5 boxes
Target Audience: Grown-up fairytale readers
High point: The quality of the re-imagining
Low point: Adult Alyss' bland personality
Reader maturity: 13+
I enjoy a well executed fairytale retelling, and
The Looking Glass Wars
is certainly that. It imaginatively ties the life of Alice Liddell--supposedly Charles Dodgson's (aka Lewis Carroll) inspiration for his classic stories of Wonderland. Alyss' story on its own would be sufficient entertainment, but the details of Alyss' unintentional exile and her time spent here on Earth made the book so much richer, as if Wonderland really could be found through any looking glass.
I found adult Alyss to be somewhat bland, but that could be a result of her time spent acting like a proper young lady in Victorian England. Her 7 year old personality was much more vibrant and mischievous; I hope that side of her reappears in the subsequent chronicles of Wonderland (
Seeing Redd
and
ArchEnemy
). The supporting characters in
The Looking Glass Wars
bring the story to life. There are many, and they all have an important role to play. Imagination runs wild in Wonderland, and some of the creations, both fun (tarty tarts) and foul (the card soldiers), amazed me. I'll admit that I had a tough time imagining some of Redd's inventions and the Alyssians' weapons, but that could easily be due to the fact that I was reading so quickly, caught up in the action rather than the details.
One of the best things about
The Looking Glass Wars
is that it's a grown-up version of the original Alice story that still feels true to its roots. It's not a "modern take" or "update" on the original tale. The spirit of creativity and Alice's personality quirks remain to give an air of comfort and familiarity to this reworking.
Title: The Looking Glass Wars
Author: Frank Beddor
Genre: Fiction - Fairytale
Year: 2006
Book Source: Purchased