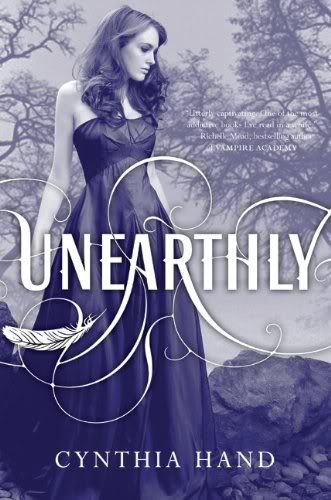 In the beginning, there's a boy standing in the trees . . . .


Clara Gardner has recently learned that she's part angel. Having angel blood run through her veins not only makes her smarter, stronger, and faster than humans (a word, she realizes, that no longer applies to her), but it means she has a purpose, something she was put on this earth to do. Figuring out what that is, though, isn't easy.
Her visions of a raging forest fire and an alluring stranger lead her to a new school in a new town. When she meets Christian, who turns out to be the boy of her dreams (literally), everything seems to fall into place—and out of place at the same time. Because there's another guy, Tucker, who appeals to Clara's less angelic side.
As Clara tries to find her way in a world she no longer understands, she encounters unseen dangers and choices she never thought she'd have to make—between honesty and deceit, love and duty, good and evil. When the fire from her vision finally ignites, will Clara be ready to face her destiny?
Unearthly is a moving tale of love and fate, and the struggle between following the rules and following your heart.
Rating: 4 out of 5 boxes
Target Audience: Paranormal readers

High point: Tuck and Clara's mom

Low point: Why did it have to be angels?
Reader maturity: 13+
I know I'm not the only blogger to be pleasantly surprised by this book. I've never been a huge fan of angel books, but one of my more recent reads burned me. When I picked up
Unearthly
, I fully expected to be offended again, but instead, I really enjoyed it.
Clara's character wasn't anything special to me; she's an everygirl so the reader can put herself in Clara's shoes. Clara's mother, on the other hand, and Tuck are two of the best YA characters I've stumbled across in a long time. Clara's mother is both present and supportive, and even though she provides a source of conflict in the novel, her love for Clara is apparent.
I was dreading the inclusion of Tuck due to my hatred of love triangles, but he won me over about the same time as he did Clara. He's so laid-back and amazing, and even though he flips out a time or two, his heart is in the right place. He's a genuinely good guy, and YA could use a few more of those.
As for the story, I loved the mystery surrounding Clara's vision and her Purpose and thought that Clara's confusion over the event was appropriately explored, both in the months leading up to it
and
the actual event.
The character of Angela is a mystery too, and I expect great (and possibly terrible) things from her in the next two novels. The ending was a bit of a jaw-dropper, and I can't wait to see what happens.
Title: Unearthly
Author: Cynthia Hand
Genre: Fiction - Paranormal
Year: 2011
Book Source: Won an ARC from Writer Musings