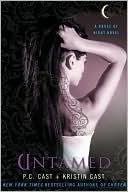 Life [stinks] when your friends are [mad] at you. Just ask Zoey Redbird... In one week she has gone from having three boyfriends to having none, and from having a close group of friends who trusted and supported her, to being an outcast. Speaking of friends, the only two Zoey has left are undead and unMarked. And Neferet has declared war on humans, which Zoey knows in her heart is wrong. But will anyone listen to her? Zoey's adventures at vampyre finishing school take a wild and dangerous turn as loyalties are tested, shocking true intentions come to light, and an ancient evil is awakened in PC and Kristin Cast's spellbinding fourth House of Night novel.
Rating: 1 out of 5 boxes
Target Audience: Teen girls, vampire aficionados
High point: Slightly different take on the classic vampire tale
Low point: The pervasive crudeness and immaturity
Reader maturity: 17+
Unfortunately, the best thing I can say about
Untamed
is that I'm glad it's the last one in the set that I bought. I'm disappointed because the story had potential (vampires acknowledged/accepted by the public, vampire vs. vampire, mean girl turned ally, vampires turned bad vampires turned okay-but-unpredictable vampires), but the plot is buried beneath so many layers of crude language, selfish actions and bad attitudes that I can't enjoy what good there is in the series.
My thoughts on
Untamed
are essentially the same as they are about the previous House of Night novels. I've reviewed
Marked
,
Betrayed
and
Chosen
if you'd like a more in depth review of the series.
Title: Untamed
Author: P. C. Cast and Kristin Cast
Genre: Young Adult Horror and Suspense
Year: 2008
Book Source: Received as gift