On Fridays, I feature family here at Bookish in a Box. Below is a review of one of my dad's recent reads.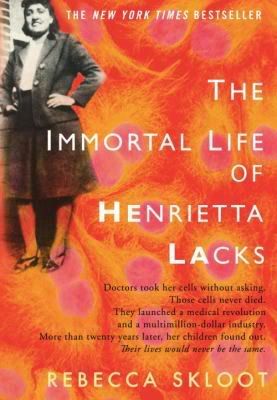 Her name was Henrietta Lacks, but scientists know her as HeLa. She was a poor Southern tobacco farmer who worked the same land as her slave ancestors, yet her cells—taken without her knowledge—became one of the most important tools in medicine. The first "immortal" human cells grown in culture, they are still alive today, though she has been dead for more than sixty years. If you could pile all HeLa cells ever grown onto a scale, they'd weigh more than 50 million metric tons—as much as a hundred Empire State Buildings. HeLa cells were vital for developing the polio vaccine; uncovered secrets of cancer, viruses, and the atom bomb's effects; helped lead to important advances like in vitro fertilization, cloning, and gene mapping; and have been bought and sold by the billions.

Yet Henrietta Lacks remains virtually unknown, buried in an unmarked grave.

Henrietta's family did not learn of her "immortality" until more than twenty years after her death, when scientists investigating HeLa began using her husband and children in research without informed consent. And though the cells had launched a multimillion-dollar industry that sells human biological materials, her family never saw any of the profits. The story of the Lacks family—past and present—is inextricably connected to the dark history of experimentation on African Americans, the birth of bioethics, and the legal battles over whether we control the stuff we are made of.
Rating: 3.5 out of 5 boxes
Target Audience: Full-spectrum
High point: Meeting the family
Low point: Racial discrimination
Reader maturity: 15+
I originally heard excerpts of this book on my local PBS station and knew I had to read it. This non-fiction work is about 300-pages long and the protagonist is a poor African-American mother with an aggressive form of cancer. A portion of the cancerous tissue was removed without Ms. Lacks or her family's consent and has been responsible for some of the greatest innovations in modern science and medicine. You'll see the innocent stepped on by political, judicial and social antagonists in the interest of big money. Deep questions are raised and there are no simple answers.

The scene opens in the early 1950's when racial discrimination was the norm. Being a child of the sixties makes some of this difficult for me to accept. There were points in the book where my interest was drowned by the complete disregard of human decency merely because of the color of someone's skin.

The book is well-researched and rich with the topics of poverty, racism and scientific ethics. This was one of those books that I found myself reading whenever I had a few minutes. It is written from the point of view of the author, contains some scientific and medical terminology, and as such is often bluntly graphic. I found profanity to be minimal.

Title: The Immortal Life of Henrietta Lacks
Author: Rebecca Skloot
Genre: Nonfiction
Year: 2010
Book Source: Purchased