I'd like to welcome my dad here to Bookish in a Box today!! I come from a family of voracious readers, and I'm excited to be getting them involved in my little piece of the internet. My dad gamely agreed to review a book he recently read, and I'm excited to share it with y'all.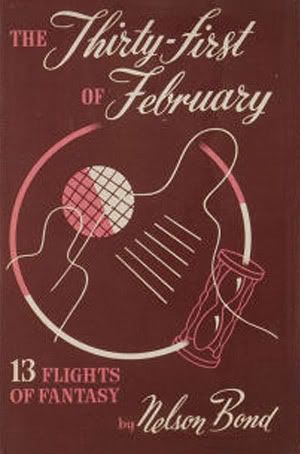 The Thirty-First of February
is a collection of science fiction short stories originally published in

1949

.
Rating: 5 out of 5 boxes
Reason: High probability of re-reading but knowing the ending of each story takes much of the intrigue out of the experience
A few weeks ago, I finished a book of thirteen short pieces of science fiction written by Nelson Bond:
The Thirty-first of February
.
While the collection was originally compiled in 1938, each story was written such that it could have been any year hence. Most text was written in third-person narrative. Descriptive details about such items as automobiles, articles of clothing and societal customs are mentioned throughout to assist the reader in imagining the scene, but little to localize the frame of reference to the late nineteen-thirties or forties.
Many stories are timeless and remain a topic of film and literature to this day. Common folk with extraordinary powers, time travel, ghosts and unknown visitors from dimensions beyond our own.
The Monster From Nowhere
is of particular interest to me because it opens the door to a parallel dimension beyond the four wherein humans exist. Like Michio Kaku's
Hyperspace,
Nelson Bond paints a vivid picture and fills in the blanks such that even the less technical reader can understand.
I would recommend this book to those individuals wishing to stretch their mind and imagination around twists to common everyday life. I found it particularly helpful to clear my mind beforehand, rather than crossing the threshold of Mr. Bond's imagination with preconceived notions.
Title: The Thirty-First of February
Author: Nelson Bond
Genre: Fiction - Science Fiction
Year: 1949
Book Source: Purchased