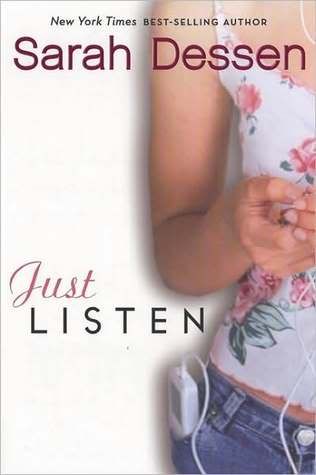 Last year, Annabel was "the girl who has everything"—at least that's the part she played in the television commercial for Kopf's Department Store. This year, she's the girl who has nothing: no best friend because mean-but-exciting Sophie dropped her, no peace at home since her older sister became anorexic, and no one to sit with at lunch. Until she meets Owen Armstrong. Tall, dark, and music-obsessed, Owen is a reformed bad boy with a commitment to truth-telling. With Owen's help,maybe Annabel can face what happened
the night she and Sophie stopped being friends.
Rating: 4 out of 5 boxes
Target Audience: Teens, clean romance readers
High point: The patient emotional progression of Annabel
Low point: Owen
Reader maturity: 13+
I believe that
Just Listen
is my 2nd favorite Sarah Dessen novel, right after
The Truth About Forever
. It's poignant and thoughtful, and even if the reader isn't as conflict-averse as Annabel, I think anyone can find someone to relate to in this novel. Fear of the truth, fear of rejection, fear of humiliation and inability of self-expression are issues that all teenagers deal with at one time or another, and Sarah Dessen does a wonderful job of exploring familiar territory in a touching and positive way.
Annabel learns to confront her fears and find her voice in a believable way and amount of time. She doesn't wake up a changed woman one morning; she fights to find the strength to make herself heard. Owen Armstrong is a big part of her transformation, as a former attendee of Anger Management. While I liked Owen's character and the relationship between him and Annabel, he was more mature and vocal than any teenage guy I've ever met. I had trouble believing that, even after court-ordered Anger Management classes, he would be spouting off phrases like "I-Lang" and "R and R" as if they were part of normal teenage lexicon.
Other than that, I appreciate how deeply I connected with Annabel, even though we have very little in common and I found her to be weaker than I generally prefer my main characters. She and her family were beautifully developed, with meaningful vignettes providing the reader with all they need to know. There are a lot of brief appearances by minor characters that eventually have great meaning as well. Every person and every scene serves a purpose. If you're a Sarah Dessen fan or you've never read any of her work, I highly recommend
Just Listen
for a thoughtful YA contemporary.
Title: Just Listen
Author: Sarah Dessen
Genre: Teen Fiction - Romance & Friendship
Year: 2006
Book Source: Purchased