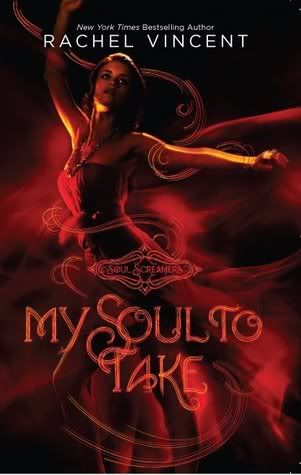 She doesn't see dead people. She senses when someone near her is about to die. And when that happens, a force beyond her control compels her to scream bloody murder. Literally.

Kaylee just wants to enjoy having caught the attention of the hottest guy in school. But a normal date is hard to come by when Nash seems to know more about her need to scream than she does. And when classmates start dropping dead for no apparent reason, only Kaylee knows who'll be next.
Rating: 2.5 out of 5 boxes
Target Audience: Paranormal fans, anyone hiding bean sidhe secrets
High point: Banshees are unusual in the YA genre
Low point: Insta-love!
Reader maturity: 13+
My Soul to Take
had an abundance of untapped potential that has me hoping for a realization of greatness in the next novel. There's a great story in there, but I had issues with a few things.
First, a novel about a teenage bean sidhe should have been fascinating, but every few pages flattened me with either an information dump or passionate kissing, which brings me to my next point...There was SO. MUCH. PDA. Every kiss, every hug, every touch was described in excruciating detail (not everything in the novel, like thoughts or scenery, but
every-single-little-thing
to do with Nash). To the author's credit, Kaylee, while overly passionate, at least didn't venture into inappropriate territory. Lastly, Kaylee and Nash "fell in love" (note the quotation marks) way too fast. The guy talked her down from one little (metaphorical) ledge and she uses that event to justify all of his subsequent actions by reasoning that he must be a good guy since he was nice to her
that one time
.
Most of the things I mentioned are based on my personal preference in novels so if those things don't bother you, give
My Soul to Take
a chance. And if you're with me on insta-love and too much PDA, you might still want to check it out. As I mentioned at the beginning, there was potential and that's what kept me reading. Maybe Kaylee and Nash will take things down a notch for
My Soul to Save
.
Title: My Soul to Take (Soul Screamers #1)
Author: Rachel Vincent
Genre: Fiction - Paranormal
Year: 2009
Book Source: Won from I Like These Books