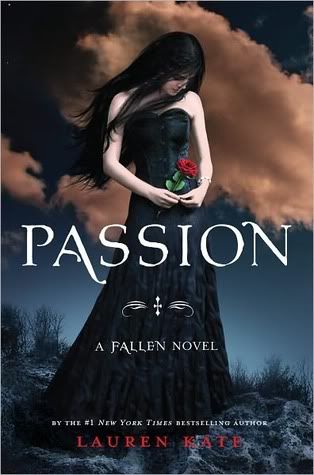 Luce would die for Daniel.

And she has. Over and over again. Throughout time, Luce and Daniel have found each other, only to be painfully torn apart: Luce dead, Daniel left broken and alone. But perhaps it doesn't need to be that way. . . .

Luce is certain that something—or someone—in a past life can help her in her present one. So she begins the most important journey of this lifetime . . . going back eternities to witness firsthand her romances with Daniel . . . and finally unlock the key to making their love last.

Cam and the legions of angels and Outcasts are desperate to catch Luce, but none are as frantic as Daniel. He chases Luce through their shared pasts, terrified of what might happen if she rewrites history.

Because their romance for the ages could go up in flames . . . forever.
Rating: N/A out of 5 boxes
Target Audience: Not me, apparently
High point: The first 90% of the novel
Low point: The last 10%
Reader maturity: 13+
For the first 90% of the novel or so, I was really excited about the review I was going to write for
Passion
. I had some problems with Luce's dependence on and all-consuming love of Daniel in the first two novels. She certainly has a mind of her own in
Passion
, and I intended to write a glowing review about the slow reveal of secrets and maturation of Luce's character, as well as the growth of Daniel and her friends, learning to let Luce go. I was also considering how to tell you how much I enjoyed Luce's excursion through time; since I'm a fan of historical fiction, this seemed to be a delightful marriage of paranormal and an exploration of different periods in history.
Unfortunately, there's that 10%. I'm already somewhat uncomfortable with angel novels, and that last bit of the book tipped me well past my comfort point, taking the book from a mere paranormal YA to something much more sensitive. If you'd like to read my thoughts on the first two books in the series, you can find them here:
Fallen
and
Torment
Title: Passion
Author: Lauren Kate
Genre: Teen Fiction--Horror & Suspense
Year: 2011
Book Source: Purchased