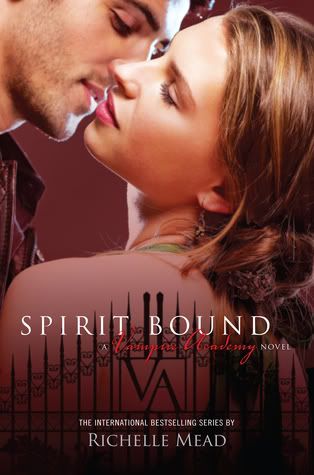 After a long and heartbreaking journey to Dimitri's birthplace in Siberia, Rose Hathaway has finally returned to St. Vladimir's—and to her best friend, Lissa Dragomir. It's graduation, and the girls can't wait for their real lives outside of the Academy's cold iron gates to finally begin. But even with the intrigue and excitement of court life looming, Rose's heart still aches for Dimitri. He's out there, somewhere.
She failed to kill him when she had the chance, and now her worst fears are about to come true. Dimitri has tasted her blood, and she knows in her heart that he is hunting her. And if Rose won't join him, he won't rest until he's silenced her...forever.
But Rose can't forget what she learned on her journey—whispers of a magic too impossible and terrifying to comprehend. A magic inextricably tied to Lissa that could hold the answer to all of Rose's prayers, but not without devastating consequences. Now Rose will have to decide what—and who—matters most to her. In the end, is true love really worth the price?
Rating: 4 out of 5 boxes
Target Audience: Teens who love good vampire drama
High point: The empathy the reader feels for Rose
Low point: Sequel Syndrome
Reader maturity: 15+
Spirit Bound
took me months--almost a year, in fact--to finish, in part because I didn't want to end on a cliffhanger and have to wait for the paperback of
Last Sacrifice
to be released and in part because I was a little bored. The event that was, to me, the climax of the novel was somewhere in the middle, leaving chapters and chapters of anticlimactic action.
It took me so long to finish that I don't remember a lot of what happened, except the main events. What I do remember is that I felt really proud of Rose for her honesty with Adrian, as well as some mature decisions that she makes with regards to their relationship (after a string of immature ones, of course). Adrian also impressed me (and Rose) with his understanding and patience. His character has more quality and depth than I initially gave him credit for (and I changed from Team Dimitri to Team Adrian over the course of
Spirit Bound
). Lissa is kind of the "eh" character to me again; she doesn't seem to be nearly as good of a friend to Rose as Rose is to her.
While
Spirit Bound
felt like more of a tie-in between
Blood Promise
and
Last Sacrifice
, it possesses the key elements that make the Vampire Academy series so memorable. While not my favorite of the series, it's still a great book, and I can't wait to see how Richelle Mead ends the saga.
Title: Spirit Bound
Author: Richelle Mead
Genre: Young Adult Horror and Suspense
Year: 2010
Book Source: Purchased