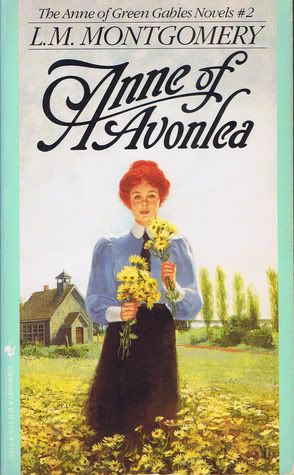 At sixteen Anne is grown up. . . almost. Her gray eyes shine like evening stars, but her red hair is still as peppery as her temper. In the years since she arrived at Green Gables as a freckle-faced orphan, she has earned the love of the people of Avonlea and a reputation for getting into scrapes. But when Anne begins her job as the new schoolteacher, the real test of her character begins. Along with teaching the three Rs, she is learning how complicated life can be when she meddles in someone else's romance, finds two new orphans at Green Gables, and wonders about the strange behavior of the very handsome Gilbert Blythe. As Anne enters womanhood, her adventures touch the heart and the funny bone.
Rating: 5 out of 5 boxes
Target Audience: Girls of all ages
High point: Anne Shirley growing up
Low point: None whatsoever
Reader maturity: 8+
Favorite quotes:
"
Well, one can't get over the habit of being a little girl all at once."
"At seventeen, dreams DO satisfy because you think the realities are waiting for you farther on."
Anne of Avonlea
follows Anne through her time teaching at the school in Avonlea and enjoying the golden years of her youth with friends and her adopted family (which got quite the extension with the addition of Dora and Davy). No other book comes close to so beautifully chronicling the bittersweet coming-of-age period in every person's life. Anne has to learn to find satisfaction in reality instead of pinning her happiness on the hopes and dreams of tomorrow.
This chapter in Anne's life begins to include more of life in Avonlea, rather than focusing on Anne's foibles and dramas. As a schoolteacher and surrogate parent to Dora and Davy, Anne's starting to have life figured out, although a few of Avonlea's characters surprise her. A few of Anne's friends from Queen's figure into this novel, and I appreciated the inclusion of Priscilla. Diana is a good friend to Anne, but, while she may be a kindred spirit, she doesn't have much of an imagination. Losing myself in Anne's and Priscilla's (and Paul's and Miss Lavender's) verbiose speeches during their rambles is almost like being there myself.
As for the rest of the people in Anne's life, Marilla starts to show herself to the reader as the kindhearted woman that Anne sees, and she remains the voice of reason, although a softer version than before. Paul Irving and Davy play counterpoints, and both are charming in their own way. And Mr. Harrison! I'd completely forgotten about him, but he's one of the most amusing and crotchety "bachelors" in literature.
My only problem now is that I want to skip straight to
Anne of Windy Poplars
!
Title: Anne of Avonlea
Author: L. M. Montgomery
Genre: Children's Fiction & Literature
Year: 1909
Book Source: Purchased