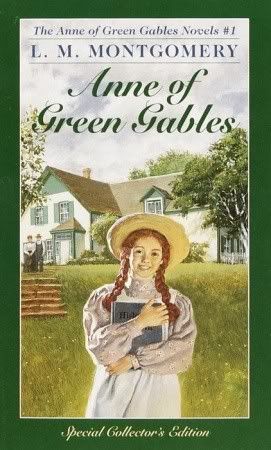 As soon as Anne Shirley arrived at the snug, white farmhouse called Green Gables, she knew she wanted to stay forever... but would the Cuthberts send her back to the orphanage? Anne knows she's not what they expected -- a skinny girl with decidedly red hair and a temper to match. If only she could convince them to let her stay, she'd try very hard not to keep rushing headlong into scrapes or blurt out the very first thing she had to say. Anne was not like anybody else, everyone at Green Gables agreed; she was special -- a girl with an enormous imagination. This orphan girl dreamed of the day when she could call herself Anne of Green Gables.
Rating: 5 out of 5 boxes
Target Audience: Girls of all ages
High point: Anne Shirley and her imagination
Low point: None whatsoever
Reader maturity: 8+
Favorite quotes:
"
There's such a lot of different Annes in me. I sometimes think that is why I'm such a troublesome person. If I was just the one Anne it would be ever so much more comfortable, but then it wouldn't be half so interesting."
"Marilla, isn't it nice to think that tomorrow is a new day with no mistakes in it yet?"
Oh, how I love this book! Anne is the quintessential coming-of-age character and provided as much empathetic comfort on my most recent read-through as she did on my first.
Technically, I'm impressed by the skill of Ms. Montgomery's pen. When Anne is the focal character, the descriptions are flowery and bountiful; when Marilla, the style changes to one more succinct and raw. The passages describing Anne's activities and surroundings even become more sedate over teh course of the novel, just as Anne's flights of fancy are tempered.
I believe every girl, young or old, can find something in Anne Shirley with which to relate.She has many admirable characteristics interspersed with realistic flaws which she must cope with or learn how to turn into strengths. One of my favorite things about Anne is that, although she had a stroke of luck (or Providence), in her appearance at Green Gables, she takes that one opportunity and runs with it, working hard to achieve her goals and make Marilla and Matthew proud.
Her girlish troubles and girlish dreams are evidence that even after 100 years, the pains and elations of growing up haven't really changed, and we can rest assured that, no matter what happens or how life treats us, Anne and Green Gables will always be willing to welcome us home.
Title: Anne of Green Gables
Author: L. M. Montgomery
Genre: Children's Fiction & Literature
Year: 1908
Book Source: Purchased