Love of reading (and history) runs in the family! Today, I'm featuring one of my mom's recent reads. (I reviewed this title in 2010, and you can find my review here.)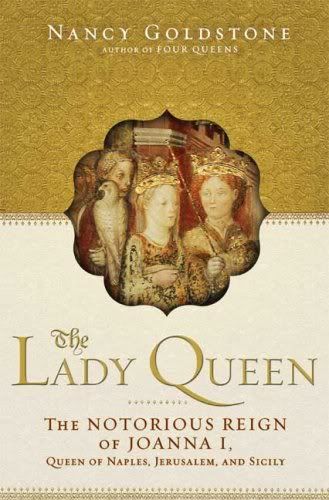 The riveting history of a beautiful queen, a shocking murder, a papal trial—and a reign as triumphant as any in the Middle Ages. On March 15, 1348, Joanna I , Queen of Naples, stood trial for her life before the Pope and his court in Avignon. She was twenty-two years old. Her cousin and husband, Prince Andrew of Hungary, had recently been murdered, and Joanna was the chief suspect. Determined to defend herself—Joanna won her acquittal against enormous odds. Returning to Naples, she ruled over one of Europe's most prestigious courts for more than thirty years—until she was herself murdered.
As courageous as Eleanor of Aquitaine, as astute and determined as Elizabeth I of England, Joanna was the only female monarch in her time to rule in her own name. She was notorious: The taint of her husband's death never quite left her. But she was also widely admired: Dedicated to the welfare of her subjects and realm, she reduced crime, built hospitals and churches, and encouraged the licensing of women physicians. While a procession of the most important artists and writers of her day found patronage at her glittering court, the turmoil of her times swirled around her: war, plague, intrigue, and the treachery that would, ultimately, bring her down. As she did in her acclaimed Four Queens, Nancy Goldstone takes us back to the turbulent and colorful Middle Ages, and with skill and passion brings fully to life one of history's most remarkable women. Her research is impeccable, her eye for detail unerring, and in The Lady Queen she paints a captivating portrait of medieval royalty in all its incandescent complexity.
Rating: 2.5 out of 5 boxes
As I read the first chapter, I had a sinking feeling that this book was going to be as long and drawn out as the title. As the author introduced the reader to various supporting characters and their relationship to each other and the Queen and which countries they ruled or would like to rule or had at one time ruled, I became a bit overwhelmed. I continued reading because I am interested in history and am glad I did.
The book follows the Queen's life from the time she was a child to her death. The author did an excellent job connecting Joanna to the reader. As her life story progressed, I sympathized with her sacrifices, took pride in her strength and cringed at her death. The book gave a fascinating glimpse into the very controlling role of the Pope in Medieval politics and individual lives, a subculture of "companies" who controlled goods and acted as paid mercenaries, the cultural role of monarchies whose duty it was to do whatever benefited the kingdom including using their children as pawns to acquire other kingdoms and the role of the arts and learning in royal courts.
Though the book remained heavy in some places while explaining relationships and political background, I found myself wanting to know what happened next in Joanna's life and anxiously reading on. This book takes effort to follow, but I found it worth the effort. I was left with the reminder that though politics, religion, and culture might differ through the ages, human nature--our wants, our needs, our emotions--remain the same.
Title: The Lady Queen: The Notorious Reign of Joanna I, Queen of Naples, Jerusalem and Sicily
Author: Nancy Goldstone
Genre: Biography, European History
Year: 2009
Book Source: Borrowed