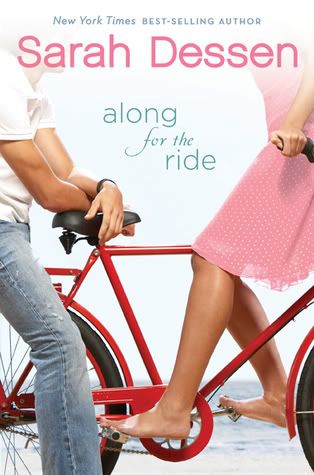 It's been so long since Auden slept at night. Ever since her parents' divorce—or since the fighting started. Now she has the chance to spend a carefree summer with her dad and his new family in the charming beach town where they live.
A job in a clothes boutique introduces Auden to the world of girls: their talk, their friendship, their crushes. She missed out on all that, too busy being the perfect daughter to her demanding mother. Then she meets Eli, an intriguing loner and a fellow insomniac who becomes her guide to the nocturnal world of the town. Together they embark on parallel quests: for Auden, to experience the carefree teenage life she's been denied; for Eli, to come to terms with the guilt he feels for the death of a friend.
In her signature pitch-perfect style, Sarah Dessen explores the hearts of two lonely people learning to connect.
Rating: 4 out of 5 boxes
Target Audience: Teens, clean romance readers
High point: The character development
Low point: Auden seemed a little cold
Reader maturity: 13+
I love Sarah Dessen's novels, and
Along for the Ride
is no exception. The great thing about her books is their ability to create an emotional connection between the main character and the reader. And there's always something in the overarching theme that makes me stop and think.
Auden is a perfectionist and an introvert, two traits that are well-represented in YA, but are examined under a curious and nonjudgmental microscope as Auden learns to let go and live, mostly through bike-riding, but also through midnight jaunts to coffee shops. She was a little more emotionally immature and distant than I would have expected, even given her background, but her tendency to be closed off sets the stage nicely for all of the subplots. So many of the characters and subplots of
Along for the Ride
have been used to the point of being cliches, but they're handled with individuality in mind. Heidi, Auden's stepmother, turns out to have greater depths beneath her perky exterior than meet the eye. Maggie is more than an angry ex-girlfriend. Auden's mother has a few surprises lurking beneath her cold heart. The transition of the characters from Auden's original perspective to the people that they become (or allow her to see) by the end of the summer is delicate and complex. Sarah Dessen chips away at their layers gradually, revealing something more than Auden could have imagined possible.
The words have a poetry, and the story is simple, yet beautiful. If you enjoy any of her earlier work, then you're definitely going to like
Along for the Ride
, and if you haven't picked one up yet,
Along for the Ride
would be a great place to start.
Title: Along for the Ride
Author: Sarah Dessen
Genre: Teen Fiction - Girls & Young Women
Year: 2009
Book Source: Purchased