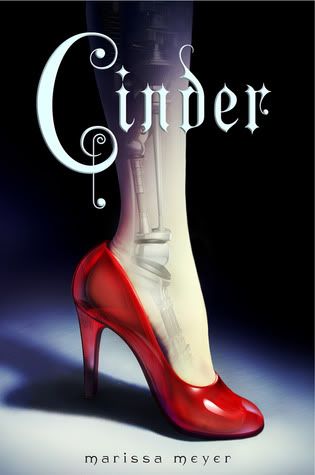 Humans and androids crowd the raucous streets of New Beijing. A deadly plague ravages the population. From space, a ruthless lunar people watch, waiting to make their move. No one knows that Earth's fate hinges on one girl... Cinder, a gifted mechanic, is a cyborg. She's a second-class citizen with a mysterious past, reviled by her stepmother and blamed for her stepsister's illness. But when her life becomes intertwined with the handsome Prince Kai's, she suddenly finds herself at the center of an intergalactic struggle, and a forbidden attraction. Caught between duty and freedom, loyalty and betrayal, she must uncover secrets about her past in order to protect her world's future.
Rating: 5 out of 5 boxes
Target Audience: Science fiction, fantasy, YA, fairytale or dystopian devotees
High point: Cinder's depth and personality
Low point: That the 2nd book isn't out yet!! (So...none, really.)
Reader maturity: 13+
When I started reading
Cinder
, I had no idea it would become one of my favorite books of 2012 (maybe
the
favorite book but the year is still young). I don't remember much hype surrounding its release, and if there wasn't any, there should've been some!
Cinder is a girl after my own heart--a mechanic, practical, uncomfortable in a ballroom (though with her head held high), keeper of a million and one secrets...I clicked with her instantly, mourning when Peony died and falling for Kai right alongside her.
The characters in
Cinder
are superb. Peony makes a huge impact is a very short amount of time, as does Kai. But one of the best ones is Dr. Erland (he's a researcher of the plague). He kept me guessing for a long time. Is he a good guy? A bad guy? Does he have selfish motives? Is he lying? Is he
not
lying?! I love when a character can surprise me but still feel true to itself and the story.
The plot, too, was impressive. It's not easy to take an existing framework (Cinderella, prince, stepfamily, royal ball, etc.) and make a new and exciting story, but
Cinder
succeeds. All of the elements that make Cinderella such a timeless fairytale exist in
Cinder
but they're amped up with science fiction and intrigue.
Still more impressive are the seamless ways Marissa Myer transports the reader into the mind of a cyborg. The little mentions of wiring, circuits and real-time retina displays of information made Cinder come to life (figuratively speaking).
The end of the book left me hungry for more, and I will definitely be adding
Cinder
to my permanent collection...So run, walk, hobble on your too-small foot to get your hands on a copy!
Title: Cinder
Author: Marissa Meyer
Genre: Fiction - Science Fiction
Year: 2012
Book Source: Won an ARC from Book Dreaming