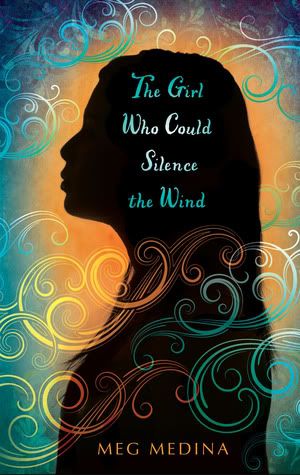 Sonia's entire village believes she has a gift, but it's only in leaving home that she finds out who she truly is. A compelling tale from a rich new voice in young adult fiction.

Sixteen-year-old Sonia Ocampo was born on the night of the worst storm Tres Montes had ever seen. And when the winds mercifully stopped, an unshakable belief in the girl's protective powers began. All her life, Sonia has been asked to pray for sick mothers or missing sons, as worried parents and friends press silver milagros in her hands. Sonia knows she has no special powers, but how can she disappoint those who look to her for solace? Still, her conscience is heavy, so when she gets a chance to travel to the city and work in the home of a wealthy woman, she seizes it. At first, Sonia feels freedom in being treated like all the other girls. But when news arrives that her beloved brother has disappeared while looking for work, she learns to her sorrow that she can never truly leave the past or her family behind. With deeply realized characters, a keen sense of place, a hint of magical realism, and a flush of young romance, Meg Medina tells the tale of a strongwilled, warmhearted girl who dares to face life's harsh truths as she finds her real power.
Rating: 4 out of 5 boxes
Target Audience: Readers looking for a YA book that's an experience
High point: The writing style
Low point: Didn't connect with Sonia
Reader maturity: 13+
The Girl Who Could Silence the Wind
is a beautiful book (and how could it not be, with such a lyrical title?). I'll admit, I hesitated when I requested it for review--I often don't like magical realism and it seemed wrong somehow to ask to review a book that I felt I was predisposed to dislike. But I'm so glad I took the chance!
One of my favorite things about this book is that it manages to set a distinct cultural tone without alienating the reader. This is done mainly through a formal speaking style and narrative tone, with the addition of a foreign set of cultural mores that are quickly and cleanly established. This method can easily have the unintended effect of being condescending or forced but it flawlessly executed in
The Girl Who Could Silence the Wind
. Another writing technique that Ms. Medina manages to implement beautifully is the use of simple descriptions. Where others might wax poetic about shadows and darkness and morbid tales of woe, Ms. Medina captures an eerie location in two short sentences that speak volumes.
"[The Haunted Valley] was a long and deserted stretch between mountain peaks that belched plumes of smoke. No Gypsy ever crossed La Fuente; they cleaimed it was filled with the restless spirits of all who died there." (ARC of The Girl Who Could Silence the Wind by Meg Medina, pg. 89)
The whole of
The Girl Who Could Silence the Wind
is written in that style, and it works splendidly with the tone and plot. My only complaint is that Sonia seemed a little standoffish and didn't invite companionship with the reader. Even though I didn't connect with her character, I still enjoyed the story and wanted to see what happened next.
On the surface, this is one of the simplest YA novels I've read, but digging a little deeper reveals hidden depths and an underlying complexity of emotion. I don't know that this is one I'll read again and again, but I would definitely recommend it. With touches of magical realism, a strong cultural vibe and a reflective main character, there's something in
The Girl Who Could Silence the Wind
for almost anyone to enjoy.
Title: The Girl Who Could Silence the Wind
Author: Meg Medina
Genre: Teen Fiction - Magical Realism
Year: 2012
Book Source: Received an ARC for review from Candlewick Press