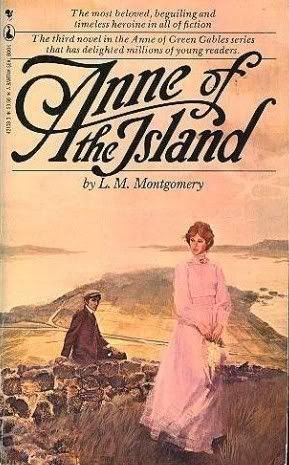 New adventures lie ahead as Anne Shirley packs her bags, waves good-bye to childhood, and heads for Redmond College. With old friend Prissy Grant waiting in the bustling city of Kingsport and frivolous new pal Philippa Gordon at her side, Anne tucks her memories of rural Avonlea away and discovers life on her own terms, filled with surprises...including a marriage proposal from the worst fellow imaginable, the sale of her very first story, and a tragedy that teaches her a painful lesson. But tears turn to laughter when Anne and her friends move into an old cottage and an ornery black cat steals her heart. Little does Anne know that handsome Gilbert Blythe wants to win her heart, too. Suddenly Anne must decide if she's ready for love...
Rating: 5 out of 5 boxes
Target Audience: Girls of all ages
High point: Gilbert, the romance, Philippa
Low point: None whatsoever
Reader maturity: 8+
Favorite quotes:
"Oh, she thought, how horrible it is that people have to grow up--and marry--and change!
"
"I wouldn't want to marry anybody who was wicked, but I think I'd like it if he could be wicked and wouldn't."
While telling my mom about my most recent re-read, I said, "I kept reading faster and faster because, even though I
know
Anne ends up with him, I was so worried that somehow she wouldn't!." My mom replied, "That's the mark of a good book." And
Anne of the Island
is certainly that!
There are so many great things about Anne of the Island; for one thing, I love the addition of Philippa. I can relate to the indecision and matter-of-factness in her character. But Anne frustrates me in this one (that's why I mentioned wanting to skip to
Anne of Windy Poplars
in my review of
Anne of Avonlea
). She's avoiding Gilbert one minute and getting riled up at a rival the next--and then, her refusal! Fortunately for Anne and her readers everywhere, we get to see Gilbert's best attributes, such as his patience. On my previous read-throughs, I didn't realize just how much she tested him. For some reason, I was under the impression that Anne was a little naive about his intentions, but I guess the point is that she needed to release her idea of perfection and embrace the wonderful person in front of her, just like she did with her dreams in
Anne of Avonlea
. The sleepless night she spends in her little upstairs room is one of the most touching and intense scenes in literature as the reader waits anxiously with Anne to find out Gilbert's fate.
I can't wait to dive into
Anne of Windy Poplars
! It's a fun one.
Title: Anne of the Island
Author: L. M. Montgomery
Genre: Children's Fiction & Literature
Year: 1915
Book Source: Purchased