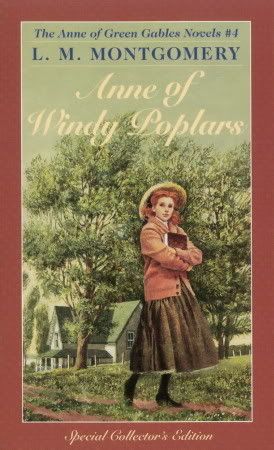 Anne Shirley has left Redmond College behind to begin a new job and a new chapter of her life away from Green Gables. Now she faces a new challenge: the Pringles. They're known as the royal family of Summerside--and they quickly let Anne know she is not the person they had wanted as principal of Summerside High School. But as she settles into the cozy tower room at Windy Poplars, Anne finds she has great allies in the widows Aunt Kate and Aunt Chatty--and in their irrepressible housekeeper, Rebecca Dew. As Anne learns Summerside's strangest secrets, winning the support of the prickly Pringles becomes only the first of her delicious triumphs.
Rating: 5 out of 5 boxes
Target Audience: Girls of all ages
High point: The odd people of Summerside
Low point: None whatsoever
Reader maturity: 8+
Favorite quotes:
"Isn't it queer that the things we writhe over at night are seldom wicked things? Just humiliating ones.
"
"I hate to lend a book I love...it never seems quite the same when it comes back to me."
Anne of Windy Poplars
is the 4th book in the Anne series, and it's just as charming and sweet as the first. Anne is more mature and less verbiose than her eleven year old self, but she's just as mischievous and dreamy as ever.
After I finished reading this (the most recent time), I wondered to myself how L. M. Montgomery managed to keep the momentum of Anne's story without it becoming dry or redundant. I'm still not exactly sure, but I think it has something to do with the inclusion of so many subplots and characters that stretch the bounds of belief. And the characters are so vibrant! Even the ones that have only one appearance manage to steal the show. The people of Summerside astound me! I want to know if they were inspired by people like that somewhere or if I'm reading tales that are pure imagination. Rebecca Dew's one-liners made me laugh aloud more than once.
Anne of Windy Poplars
is similar to
Chronicles of Avonlea
in that there are many small vignettes tied together by Anne's own story and her letters to Gilbert.
In an earlier review, I mentioned that there's a little of Anne in every girl, and that holds true for the Anne of Windy Poplars. Though still prone to mishap (perhaps that's why she's still so likable, even as she ages), she's good at heart, with wild dreams and flights of fancy than we can still relate to, over 7 decades later.
Title: Anne of Windy Poplars
Author: L. M. Montgomery
Genre: Children's Fiction & Literature
Year: 1936
Book Source: Purchased