Love of reading (and history) runs in the family! Today, I'm featuring one of my mom's recent reads.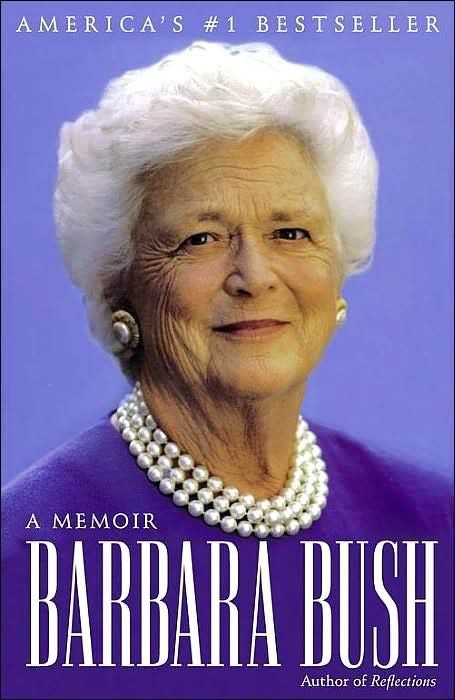 Barbara Bush endures as one of America's most popular First Ladies. She has won worldwide acclaim for her wit, compassion, and candor as both a presidential wife and mother. In this #1 New York Times bestselling memoir, Mrs. Bush offers a heartfelt portrait of her life in and out of the White House, from her small-town schoolgirl days in Rye, New York, to her fateful union with George H.W. Bush, to her role as First Lady of the United States. Here, she writes candidly about
her early years with George Bush in West Texas; the tragic death of her young daughter; •the world of Washington politics and the famous figures she's met •in her role as the nation's leading literacy champion; her feelings about the Iran-Contra scandal, the Persian Gulf conflict, and the Cold War; the disappointment of the 1992 presidential campaign -- and the mixed blessing of regaining her private life...and much more. Filled with entertaining anecdotes, dozens of personal photographs, and a healthy dose of humor, this memoir is as compelling and honest as the former First Lady herself.
Rating: 4 out of 5 boxes
I have been an admirer of Barbara Bush since her husband was president. She seemed to me to be honest--not a limelight seeker--and a solid supporter of her husband. As I read her memoir, I was not disappointed as all these attributes are present but was surprised at some which the book revealed. I found her, through the book, to be someone who is ready to have good fun, someone who can definitely stand up for herself when warranted and someone who is very self-deprecating about her looks and her weight.
The book is written in an honest, easy to read format, almost as if Barbara is sitting in the room telling her stories. Most of the book I thoroughly enjoyed. Reading about the Bush's experiences in foreign countries was fascinating. Following her and George from house to house, through the birth of their children, into politics and all that entailed was very interesting. After George entered politics, parts of the book are very immersed in the campaign trail. This was slow reading for me because I am not interested in political maneuvering. Even these parts, though, held some interest as she writes about the opponents on a personal level.
I think by reading this book, I got to know the real Mrs. Bush. The writing comes across as forthright, written by a person who is not pretending to be someone she isn't. She is obviously biased when it comes to her husband and his politics, but after reading her story, I believe that is what she honestly feels and who she is. It's a good read on many levels--historically, personally, culturally and politically from one side of the spectrum.
Title: Barbara Bush: A Memoir
Author:
Barbara Bush
Genre: Autobiography
Year: 2003
Book Source: Borrowed