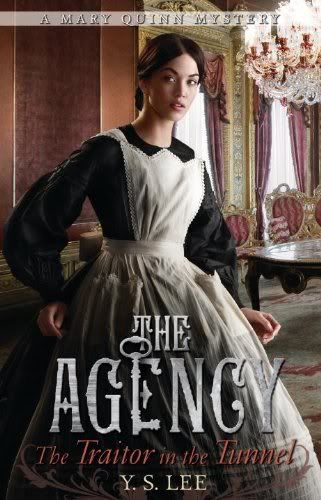 Queen Victoria has a little problem: there's a petty thief at work in Buckingham Palace. Charged with discretion, the Agency puts quickwitted Mary Quinn on the case, where she must pose as a domestic while fending off the attentions of a feckless Prince of Wales. But when the prince witnesses the murder of one of his friends in an opium den, the potential for scandal looms large. And Mary faces an even more unsettling possibility: the accused killer, a Chinese sailor imprisoned in the Tower of London, shares a name with her long-lost father. Meanwhile, engineer James Easton, Mary's onetime paramour, is at work shoring up the sewers beneath the palace, where an unexpected tunnel seems to be very much in use. Can Mary and James trust each other (and put their simmering feelings aside) long enough to solve the mystery and protect the Royal Family? Hoist on your waders for Mary's most personal case yet, where the stakes couldn't be higher - and she has everything to lose.
Rating: 4.5 out of 5 boxes
Target Audience: Mainstream YA fans, devourers of historical fiction...anyone, really
High point: Lots of James!
Low point: Mary didn't quite seem herself
Reader maturity: 13+
The Agency is one of my favorite YA series and definitely my favorite historical. After I receive my copy of the latest novel (pre-ordered!), I wait to read it until I have a nice, long, uninterrupted stretch of time in which to savor the experience. And it's
always
an experience.
All the things that I've praised about the first two books of the series are still here: strong heroine, slow-paced and fulfilling romance, mystery, action, history coming to life...
And yet...there was something strange about Mary in this one. At first, I thought she was acting counter to character, but eventually decided that she was, in fact, evolving. The hot-then-cold reception she gave James and her inability to make up her mind about the issue of her father (not a crime, but not very Mary-like either) gave me pause at first, as I thought she'd had a sudden mental departure from herself. However, it turns out that she's facing painful memories and hard choices. So while I didn't enjoy this particular Mary as much as I did the ones in
A Spy in the House
and
The Body at the Tower
, I understand that the change was necessary. She seemed to be in a good place at the end, so I'm still quite hopeful for the next book in the series.
After I got past Mary's indecisiveness, I found the story to be solid, if not riveting in intensity.
The Traitor in the Tunnel
focuses much more on character evolution and relationship building than do the previous novels. It was great to see Mary move forward, both personally and professionally.
The Traitor in the Tunnel
is the third in a YA historical series most wonderful! While I wouldn't recommend starting with
The Traitor in the Tunnel
(because it's the
third
one), if you enjoy historical fiction
at all
, this is a series you need to try.
Title: The Agency: The Traitor in the Tunnel
Author: Y. S. Lee
Genre: Fiction - Historical
Year: 2012
Book Source: Purchased