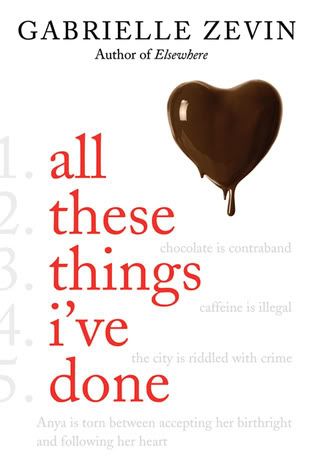 In 2083, chocolate and coffee are illegal, paper is hard to find, water is carefully rationed, and New York City is rife with crime and poverty. And yet, for Anya Balanchine, the sixteen-year-old daughter of the city's most notorious (and dead) crime boss, life is fairly routine. It consists of going to school, taking care of her siblings and her dying grandmother, trying to avoid falling in love with the new assistant D.A.'s son, and avoiding her loser ex-boyfriend. That is until her ex is accidentally poisoned by the chocolate her family manufactures and the police think she's to blame. Suddenly, Anya finds herself thrust unwillingly into the spotlight--at school, in the news, and most importantly, within her mafia family.
Rating: 4 out of 5 boxes
Target Audience: Dystopian and mystery readers
High point: Anya's loving family and friends
Low point: The culprit behind the poisoned chocolate was predictable
Reader maturity: 13+
The summary on the inside cover of
All These Things I've Done
gave me pause--a Mafiya daughter, a dystopian, a romance...Could all these things work together in a way that would actually work? (Short answer: Yes.)
What makes
All These Things I've Done
stand apart from other dystopian or crime family novels is the focus on friends and family. Anya has a fantastic support system. She is, if not in name then in fact, the head of her family, and she does a stellar job of taking care of them and keeping them together. She shoulders much more of a burden than should be hers, but she did it in a realistic way. Sometimes in stories like these, the character is too adult or too childlike, but she's the perfect mix of adult responsibility mixed with teenage passion.
Something else that sets this novel apart is Anya's tendency to talk to the reader, a technique that I've always enjoyed. It reminds me of the old-timey books I read when I was younger, when authors tended to tell their stories as if to a present audience rather than some unseen public. Anya explains a lot of her actions and thoughts to the reader too, and I'm glad she does. Otherwise, her actions might appear out of character when they are actually rational moves on her part. The introspection this provides also allows greater insight into Anya's personality. Without it, she would seem too put-together.
When writing this review, I discovered that this is the first in a series, and I'm quite excited about that. As I finished the last page of the book, I wondered if (and hoped) there would be more in store for Anya and the remains of her family.
Title: All These Things I've Done (Birthright #1)
Author: Gabrielle Zevin
Genre: Fiction - Dystopian
Year: 2011
Book Source: Won from Valerie Kemp