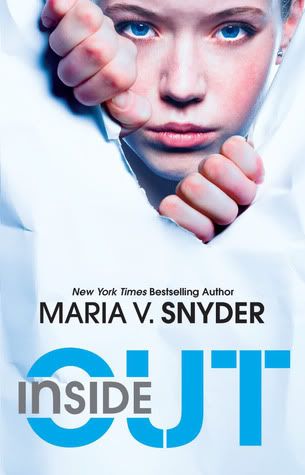 Keep Your Head Down.
Don't Get Noticed.
Or Else.

I'm Trella. I'm a scrub. A nobody. One of thousands who work the lower levels, keeping Inside clean for the Uppers. I've got one friend, do my job and try to avoid the Pop Cops. So what if I occasionally use the pipes to sneak around the Upper levels? The only neck at risk is my own…until I accidentally start a rebellion and become the go-to girl to lead a revolution.
Rating: 3 out of 5 boxes
Target Audience: Dystopian readers
High point: Trella's evolution
Low point: The confusing descriptions of Inside
Reader maturity: 13+
Initially,
Inside Out
disappointed me. I was expecting a strong, girl-power-wielding character with whom I could relate, and instead I got Trella--selfish, conceited, holier-than-thou Trella. But just as Trella realized she'd misjudged her fellow scrubs, I realized
I
had misjudged Trella.
My misgivings about
Inside Out
concern more than just Trella. I found the descriptions of the layouts and lifestyles Inside complicated and confusing. Fortunately, the plot alone is enough to carry the novel, and fortunately for the continuation of the series, Trella learns a few lessons that make her a more bearable human being. The rules of Inside still don't make sense to me (or at least the origins of Uppers and scrubs and their lack of reproductive rights) but I'm hoping that will be further explained in
Outside In
.
While it wasn't what I was expecting and didn't quite live up to my expectations,
Inside Out
was a fun read that left me eager for more and glad that I have
Outside In
waiting on my shelf.
Title: Inside Out (Insider #1)
Author: Maria V. Snyder
Genre: Fiction - Dystopian
Year: 2010
Book Source: Purchased