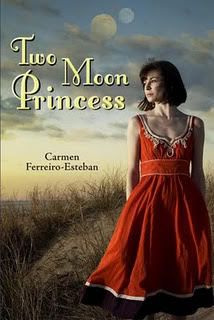 A Spanish Princess.
An American Boy.
A King set on revenge.

An unrequited love
and a disturbing family secret
bring a World to the brink of War.


In this coming-of-age story set in a medieval kingdom, Andrea is a headstrong princess longing to be a knight who finds her way to modern-day California. But her accidental return to her family's kingdom and a disastrous romance brings war, along with her discovery of some dark family secrets. Readers will love this mix of traditional fantasy elements with unique twists and will identify with Andrea and her difficult choices between duty and desire.
Rating: 2 out of 5 boxes
Target Audience: Fantasy fans
High point: The unpredictability
Low point: The characterization
Reader maturity: 13+
While
Two Moon Princess
has good bones, it's a little rough around the edges. I found Andrea to be immature for her age and inconsistent in personality, the latter of which is a feature of several of the characters. They're either hot or cold and likely to be both within a matter of minutes. I also noticed that every male character who didn't love Andrea turned out to be a jerk, which, while satisfying from a teenaged emotional standpoint, isn't very realistic.
Character complaints aside,
Two Moon Princess
has a decent story. Andrea is a princess in her world, who longs for freedom. In the process of searching it out, she inadvertently starts a war. She's brave (well, some of the time) and impetuous (pretty much all the time), and she's a good character for expressing adolescent realism. Unlike so many YA characters in dire circumstances, she's not a level-headed, in-control, mini-adult; she acts and reacts passionately.
Another thing in favor of
Two Moon Princess
was its ability to keep me guessing. I had the romance pegged in Chapter 5, only to be proven wrong in Chapter 7 when I made another guess, which was, in turn, proven wrong. The unpredictability was refreshing!
The protagonist of
Two Moon Princess
is about 17 (in our world), but the book feels written for an older middle grade audience. It's completely clean (aside from non-descriptive battle violence) so it's appropriate for anyone with the ability to read it.
Title: Two Moon Princess
Author: Carmen Ferreiro-Esteban
Genre: Fiction - Fantasy
Year: 2007
Book Source: Won from I Like These Books