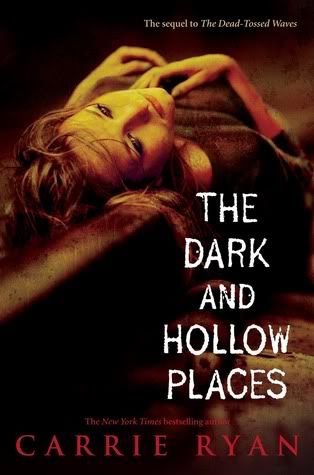 There are many things that Annah would like to forget: the look on her sister's face before Annah left her behind in the Forest of Hands and Teeth, her first glimpse of the Horde as they swarmed the Dark City, the sear of the barbed wire that would scar her for life. But most of all, Annah would like to forget the morning Elias left her for the Recruiters.

Annah's world stopped that day, and she's been waiting for Elias to come home ever since. Somehow, without him, her life doesn't feel much different than the dead that roam the wasted city around her. Until she meets Catcher, and everything feels alive again.

But Catcher has his own secrets. Dark, terrifying truths that link him to a past Annah has longed to forget, and to a future too deadly to consider. And now it's up to Annah: can she continue to live in a world covered in the blood of the living? Or is death the only escape from the Return's destruction?
Rating: 4 out of 5 boxes
Target Audience: Dystopian fans, readers who enjoy immersing themselves in another world
High point: The emotional intensity
Low point: Annah was hard to spend time with
Reader maturity: 13+
As usual, Carrie Ryan delivered a stunning novel about love, loss and betrayal, filled to the brim with existential questions and intense introspection. I'm always amazed at how much emotion she can pack into a story about
zombies
, of all things.
I didn't enjoy
The Dark and Hollow Places
as much as
The Dead-Tossed Waves
(although I like the conclusion better than that of
The Forest of Hands and Teeth
). It felt very repetitive, like we were stuck in Annah's head, and
she
wasn't going anywhere. That's probably part of the point, that she felt so trapped and thus the reader does too. However,
The Dark and Hollow Places
is a very emotionally gripping novel, which compelled me to keep turning pages (although I cheated and read the ending about halfway through so I'd know who I could get attached to). Coincidentally, my favorite scenes are near the end. They're full of symbolism and layers of meaning that provide unexpected depth.
I wish I had read this sooner after
The Dead-Tossed Waves
because it references the events in Vista, which I couldn't recall.
The Dark and Hollow Places
provides enough background information to follow the story without trouble, but since I've read
The Dead-Tossed Waves
, it was bugging me that I couldn't remember what the deal was with Elias, Gabry and Catcher.
Title: The Dark and Hollow Places
Author: Carrie Ryan
Genre: Teen Fiction, Horror & Suspense
Year: 2011
Book Source: Purchased