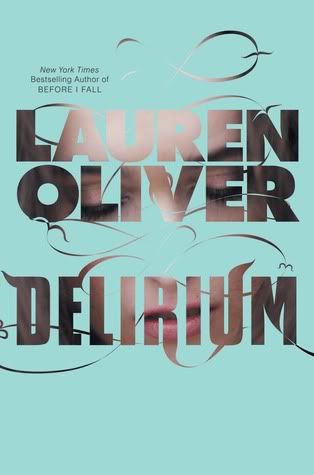 Before scientists found the cure, people thought love was a good thing. They didn't understand that once love -- the deliria -- blooms in your blood, there is no escaping its hold. Things are different now. Scientists are able to eradicate love, and the government demands that all citizens receive the cure upon turning eighteen. Lena Holoway has always looked forward to the day when she'll be cured. A life without love is a life without pain: safe, measured, predictable, and happy.

But with ninety-five days left until her treatment, Lena does the unthinkable: She falls in love.
Rating: 4 out of 5 boxes
Target Audience: Dystopian and YA romance readers
High point: The introspection
Low point: It left a lot of my questions unanswered
Reader maturity: 13+
Delirium
was all kinds of awesome. I actually pre-ordered it last year and then didn't get around to reading it until now because I was miffed about the cover change. (Who
doesn't
like their series' covers to match?) But whichever cover you prefer (I'm partial to the one shown here, the original cover), don't let the publisher's indecisiveness stop you from reading it!
Delirium
is a steady, extremely introspective novel, similar in tone to
Before I Fall
. Several reviewers have described
Delirium
as "slow," but I don't feel like that's a fair or complete descriptor. True,
Delirium
has few moments of real action, but there is a constant evolution within Lena and her interactions with her world.
The world-building is to be commended as well, although there are a lot of unanswered questions about how love came to be considered a disease. Lauren Oliver didn't turn the US on its head; she closed it off. There are a few new technologies (the "cure," for one), but mostly the US in
Delirium
is a collapsing, frightened version of its current self. Quotes from
The Book of Shhh
and "banned content" from familiar novels were a great addition at the beginning of each chapter. Maintaining 21st century technology and culture keeps the dystopian aspect realistic and allows
Delirium
to focus on food for thought rather than science fiction-- Is pleasure worth the pain? To what lengths is our society willing to go to be "safe"? Is peace without choice still peace?
I'm not usually interested in short story tie-ins, but I'll admit that I'm curious about Hana's story. She did
not
turn out like I thought she would...
I'm so glad there's a sequel because Lena's story isn't finished. I have so many questions!
Title: Delirium (Delirium #1)
Author: Lauren Oliver
Genre: Fiction - Dystopian
Year: 2011
Book Source: Purchased