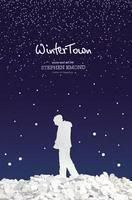 Every winter, straight-laced, Ivy League bound Evan looks forward to a visit from Lucy, a childhood pal who moved away after her parent's divorce. But when Lucy arrives this year, she's changed. The former "girl next door" now has chopped dyed black hair, a nose stud, and a scowl. But Evan knows that somewhere beneath the Goth, "Old Lucy" still exists, and he's determined to find her...
Rating: 2 out of 5 boxes
Target Audience: Fans of graphic novels
High point: The included sketches and cartoons
Low point: Didn't like Lucy and didn't understand Evan
Reader maturity: 13+
I'm not, historically, a fan of male narrators or POVs so
Winter Town
had me a little concerned. But Evan wasn't the one who turned out to be the problem; it was Lucy. I found her rude, conceited and insufferable. Evan's attraction made no sense to me. However sweet Old Lucy may have been, New Lucy was disdainful, self-righteous and, as it turns out, hypocritical. Characters tend to make a lot of mistakes in coming-of-age novels so Lucy's flaws weren't the whole problem; it's also that I can't get over why Evan still had feelings for her and allowed her to belittle him.
I also took issue with Lucy's stance that going to college and having a family were choices that only lame people make. To me, if that's someone's
choice
, then no one else has a right to judge them for settling down and providing for a family. (In other words, Lucy and I would not have gotten along very well...)
I *did* like the addition of the drawings and inclusion of Evan and Lucy's comics. In that way, it wasn't like anything else I've read, and branching into a new style (graphic novel combined with regular novel?) was cool. But otherwise,
Winter Town
isn't my kind of book.
Title: Winter Town
Author: Stephen Emond
Genre: Fiction - Contemporary
Year: 2011
Book Source: Won from I Like These Books