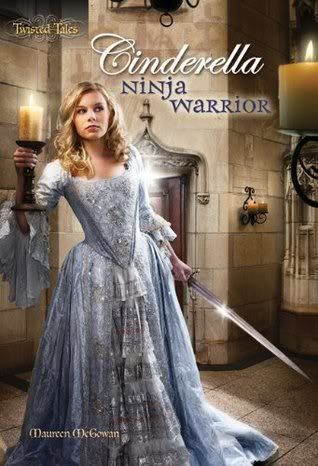 Seeking to escape the clutches of her evil stepmother, Cinderella perfects her ninja skills and magic talents in secret, waiting for the day when she can break free and live happily ever after. In a special twist, readers have the opportunity to make key decisions for Cinderella and decide where she goes next.
Rating: 2.5 out of 5 boxes
Target Audience: Younger YA readers and maybe older MG readers
High point: Cinderella as a ninja warrior
Low point: Ninjas should probably stick to the big screen
Reader maturity: 10+
The thing I had to keep telling myself while reading
Cinderella: Ninja Warrior
is that I had to redirect my expectations. When I finally managed to look upon it as a book that's supposed to be a little cheesy and over-the-top, it was a much more fun experience.
Fairytale retellings can feel confined to a set storyline, but Maureen McGowan maneuvers around that issue by making Cinderella a magician/ninja warrior. Regarding that particular aspect of the book, I understand the link between the two (discipline and self-control are necessary for both) but fail to see the connection otherwise (or how Cinderella managed to teach herself acrobatics with just a cat and a book as guides...).
This book has a neat set-up in that it's kind of a choose-your-own-adventure, only
less
cheesy and with
much
better plot development. Cinderella has to put up a convincing fight for what she believes in. However, I found her character to be a bit wishy-washy. She's all about girl-power one moment and self-doubt the next, traits that were expressed as extremes rather than nuances. Ninja skills also don't translate very well to text; the descriptions tended to lose my attention.
On the positive side of things, I thought the magician/ninja warrior angle very creative, and I had a lot of fun reading about Cinderella. Yes, the rules of magic and Cinderella's captivity weren't fully fleshed out, but overlooking that allows a lighthearted novel of action and adventure to shine through.
Title: Cinderella: Ninja Warrior
Author: Maureen McGowan
Genre: Fiction - Fantasy, Fairytale
Year: 2011
Book Source: Won from Lost for Words