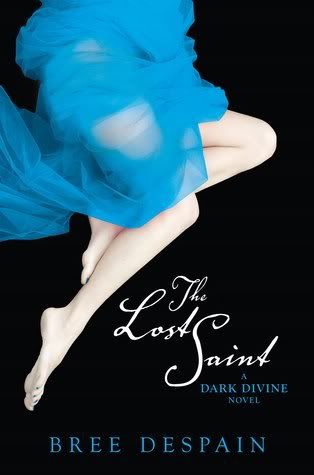 Grace Divine made the ultimate sacrifice to cure Daniel Kalbi. She was infected with the werewolf curse while trying to save him, and lost her beloved brother in the process.

Desperate to find Jude, Grace befriends Talbot, a newcomer to town. But as the two grow closer, Grace's relationship with Daniel is put in danger - in more ways than one.

Unaware of the dark path she is walking, Grace begins to give into the wolf inside of her - not realizing that an enemy has returned and a deadly trap is about to be sprung.
Rating: 3 out of 5 boxes
Target Audience: Fans of the paranormal and those who need a vampire break
High point: More Grace and Daniel...
Low point: ...but Grace is very different
Reader maturity: 13+
I don't know if I waited too long to read
The Lost Saint
(I pre-ordered it and put off reading it for almost a year and a half because I didn't think anything could top
The Dark Divine
) or if it's because it's radically different from the first Dark Divine novel, but
The Lost Saint
was missing the key elements that I loved about
The Dark Divine
.
For one thing, Grace is much wilder. I appreciated her non-saccharine-but-still-a-good-girl personality in
The Dark Divine
and realize that, once infected by the werewolf curse, she's going to be different. However, it felt like she was changing to meet with someone else's expectations (two different someones, actually), and that didn't seem like Grace at all.
In
The Dark Divine
, her family is a huge part of her life, but they let her down in
The Lost Saint
. One scene in particular made me indignant on her behalf, when her (oft absent and extremely secretive) father scolds her for being "self-absorbed." Rash? Irresponsible? Dishonest? Check, check, check. Selfish? Not so much. She develops a bad habit of lying and
The Lost Saint
contains a lot of secrets and fibs; if everyone had been honest, the story would be a lot less painful (lying is a plot-killer for me), if a good deal shorter.
It's not that
The Lost Saint
isn't well written or even a good story, but since Grace Divine abandoned her noncomformist, intelligent personality, I found her a lot harder to relate to and sympathize with. Hopefully there's redemption in store for more than one of the Divines in
The Savage Grace
.
Title: The Lost Saint (The Dark Divine #2)
Author: Bree Despain
Genre: Teen Fiction Horror & Suspense
Year: 2010
Book Source: Purchased