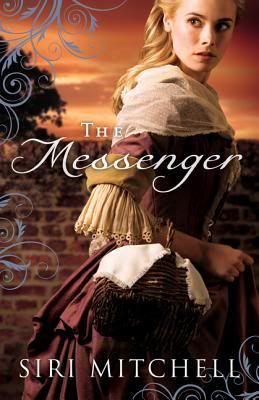 Hannah Sunderland felt content in her embrace of the Quaker faith

...until her twin brother ran off and joined the army and ended up captured and in jail. Suddenly Hannah's world turns on end. She longs to bring her brother some measure of comfort in the squalid, frigid prison where he remains. But the Quakers believe they are not to take sides, not to take up arms. Can she sit by and do nothing while he suffers?

Jeremiah Jones has an enormous task before him. Responsibility for a spy ring is now his, and he desperately needs access to the men in prison, whom they are seeking to free. A possible solution is to garner a pass for Hannah. But while she is fine to the eye, she holds only disdain for him--and agreeing would mean disobeying those she loves and abandoning a bedrock of her faith.

With skill and sensitivity, Mitchell tells a story of two unlikely heroes seeking God's voice, finding the courage to act, and discovering the powerful embrace of love.
Rating: 4 out of 5 boxes
Target Audience: Historical fiction fans
High point: Learning about the Quakers
Low point: Hannah took a few chapter to win me over
Reader maturity: 13+
As a rule, I don't read Christian fiction, but since reading
She Walks in Beauty
by Siri Mitchell, I've made an exception for her books.
One thing I really appreciate about
The Messenger
is all of the research that went into the Loyalist occupation of Philadelphia, as well as life in the 1770s and the religious beliefs of the Quakers. Siri Mitchell hits all the high points of historical fiction with enough descriptions and customs to engage the reader in times past but with enough activity and plot advancement to keep the reader interested. Solely as a historical novel,
The Messenger
shines.
It also excels as a novel about Quaker beliefs and is a very interesting way to learn about a different faith. Treatment of the Quakers' beliefs is respectful, even as Hannah questions what she's been taught. The discussion of religion is key to the novel, yet it never feels overdone or tells the reader what they
ought
to be thinking.
As for the story and the characters, I was also very impressed. Hannah is very sincere, if a bit irritating until she proves her sincerity. Within a short period of time, she had won me over as quickly as she did Jeremiah. Now
he
took a little longer to convince me, but eventually I was rooting for all the people I was supposed to and was invested in the conclusion. As I was reading, I noted the depth of all the characters. The attention to detail and consistency of character are impeccable.
If you enjoy historical or Christian fiction, this would be a fantastic book for you to try. If you're interested in more by Siri Mitchell, you can also check out my review of
A Heart Most Worthy
.
Title: The Messenger
Author: Siri Mitchell
Genre: Fiction - Historical, Christian
Year: 2012
Book Source: Received for review from Bethany House Publishers