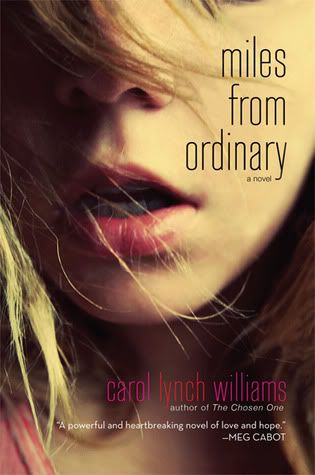 Thirteen-year-old Lacey wakes to a beautiful summer morning excited to begin her new job at the library, just as her mother is supposed to start work at the grocery store. Lacey hopes that her mother's ghosts have finally been laid to rest; after all, she seems so much better these days, and they really do need the money. But as the hours tick by and memories come flooding back, a day full of hope spins terrifyingly out of control...
Rating: 1.5 out of 5 boxes
Target Audience: Anyone looking for an emotional ride
High point: The intensity
Low point: "not my cup of tea"
Reader maturity: 15+
I should just be honest--
Miles From Ordinary
falls into the "not my cup of tea" category, and the best reason I can give is that I prefer happier (or perhaps, less realistic) fiction.
I don't believe a reader has to like a main character to like a book, but there were so many things I wanted to tell Lacey, to make her understand, that I was extremely frustrated. I tried sympathizing with her, reminding myself that with her background, she wouldn't be emotionally equipped to know better, but I was irritated by her anyway. There were only two scenes where I thought, "Yes! Way to go!" I spent the others cringing in anticipation of her next move. I also know that the events leading up to the day written about in the novel are likely more commonplace than they ought to be, yet it was hard for me to believe that so many people--including her family--could write Lacey off the way they did. There was very little light in Lacey's darkness. Thus, part of the reason I didn't enjoy
Miles from Ordinary
is that it explores issues that I don't enjoy reading about, hence it being "not my cup of tea."
It was definitely an emotional read, so while there were things I didn't like, the writing was good enough to draw me in and get me invested in Lacey's life and struggles. Would I recommend it? I don't know. It wasn't the book for me, but I can see why others enjoyed it. If it interests you at all, you might check out other reviewers' thoughts on
Goodreads
.
Title: Miles from Ordinary
Author: Carol Lynch Williams
Genre: Fiction - Contemporary
Year: 2011
Book Source: Won from Reading Nook