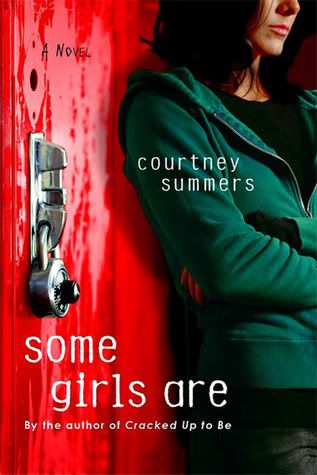 Climbing to the top of the social ladder is hard--falling from it is even harder. Regina Afton used to be a member of the
Fearsome Fivesome
, an all-girl clique both feared and revered by the students at Hallowell High... until vicious rumors about her and her best friend's boyfriend start going around. Now Regina's been "frozen out" and her ex-best friends are out for revenge. If Regina was guilty, it would be one thing, but the rumors are far from the terrifying truth and the bullying is getting more intense by the day. She takes solace in the company of Michael Hayden, a misfit with a tragic past who she herself used to bully. Friendship doesn't come easily for these onetime enemies, and as Regina works hard to make amends for her past, she realizes Michael could be more than just a friend... if threats from the
Fearsome Foursome
don't break them both first.
Rating: 4* out of 5 boxes
Target Audience: The opposite of someone looking for a fluffy beach read
High point: The intensity
Low point: The swearing and mature content
Reader maturity: 17+
I read this book in one sitting. I could barely put it down. It's intense and emotional and painful and
good
. Usually I wait a day or two before writing my reviews, but for
Some Girls Are
, I went straight from the couch to the computer.
Mean girl novels aren't really my thing, but this book grabbed me and wouldn't let me go. Regina seemed so real--insecure, anxious, mean (obviously), desperate--all things that teenagers are, that all people are at some point. Unfortunately for her, she spent her years of weakness stomping on her classmates instead of rising above them and pays a heavy price.
My first reaction (as an adult) was to say that there's no way that kind of thing could happen at a school, no way that so many people would cheer or look the other way, no way that the adults wouldn't notice, but that's not true. While all bullying may not be so overt, this kind of behavior doesn't stop in high school, and that realization makes the book all the more real. The characters really
make
the novel--while they're all cliche, in a way, they aren't the least bit funny, and even when Kara and Anna seemed overdone, they were terrifying.
Courtney Summers did a great job of providing the perfect amount of hope and remorse to balance out all the horrible things in this novel. Reading it wasn't exactly pleasant (because it tackles some heavy topics and it's gritty), but I was rooting for Regina and Michael the whole time and could barely tear myself away from the story.
FYI:
Some Girls Are
contains crude language and some sexual references so it's not a book for the younger crowd.
*It would be 5 out of 5 but due to the language and content, I downgraded it.
Title: Some Girls Are
Author: Courtney Summers
Genre: Fiction - Contemporary
Year: 2010
Book Source: Borrowed