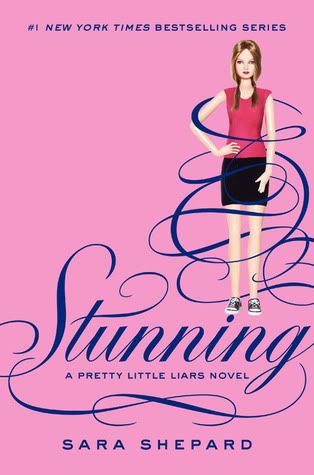 After Alison DiLaurentis tried to kill them, Spencer, Aria, Emily, and Hanna tried to get their lives back on track. But these girls just can't stay out of trouble. First there was their disastrous trip to Jamaica, and their summer breaks were no less eventful. Now a new A is stalking them, taunting them with the very secrets these pretty little liars have been trying to forget. But this A doesn't just want to blackmail the girls—this A is out for blood.
[from Goodreads]




Rating: 3.5 out of 5 boxes
Target Audience: Contemporary YA readers
High point: The mysterious A
Low point: I'm still a little embarrassed to admit I like this series
Reader maturity: 15+
The girls (and A) are back!! I was so excited to see them in my mailbox. While I started out the series with more than a little skepticism, I have to admit that they've slowly won me over, even as I complain about their immaturity and how they bring some of their problems on themselves (and the events of Stunning are no exception, although they are, as usual, chock full of entertainment value).
I've spent quite a while trying to figure out my attraction to these books; they're certainly not my usual YA fare. One of the possible reasons is that Sara Shepard has mastered the art of surprise. I know that there's an A, I know the girls are going to do something dumb to keep her quiet and yet I'm frequently surprised by what A has in store for them next and the lengths to which the girls will go.
Stunning is no exception. There are even more twists and turns, and life in Rosedale is even more soap-opera-worthy than usual. Aria and Emily steal the show in this chapter of the Liars' lives. Aria goes through some rough stuff emotionally, sorting out baggage and realizing that there are different kinds of secrets, while Emily deals with the aftermath of the previous summer. It may only be for the duration of Stunning, but these two finally start to grow up, which makes them my favorite Pretty Little Liars for the moment.
Hanna is…Hanna--self-centered and impetuous, determined to the point of social ruin. I found some of her stunts to be driven by an uncharacteristic desperation, but I suppose that A is driving them all crazy. For the smartest girl in the group, Spencer isn't always the brightest crayon in the box. While some of the Liars have learned their lessons, Spencer takes a cue from Hanna and stops at nothing to secure her position at Princeton. I always thought Spencer was the most levelheaded Liar, but A has her running scared too.
As usual, Stunning is a great summer read for spending a lazy afternoon steeped in secrecy and intrigue. Although the secrets are getting more and more unbelievable, Stunning returns to the more light-hearted feel of the earlier books, unlike PLL #10, Ruthless. It kept me flipping pages long past my bedtime as guess after guess about A's next move was proven wrong. Fortunately for me, there's still one more book left in the series so we have one more chance to discover who A is. If you like the TV show or the book series, then you definitely need to pick up a copy of Stunning. If you haven't yet given the Pretty Little Liars a shot, then get ready to get addicted.
Title: Stunning (Pretty Little Liars #11)
Author: Sara Shepard
Genre: Fiction - Contemporary
Year: 2012
Book Source: Received for review from HarperTeen