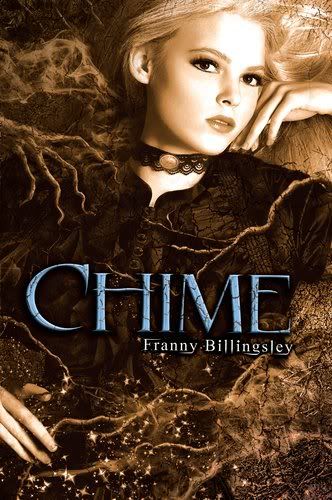 Before Briony's stepmother died, she made sure Briony blamed herself for all the family's hardships. Now Briony has worn her guilt for so long it's become a second skin. She often escapes to the swamp, where she tells stories to the Old Ones, the spirits who haunt the marshes. But only witches can see the Old Ones, and in her village, witches are sentenced to death. Briony lives in fear her secret will be found out, even as she believes she deserves the worst kind of punishment.

Then Eldric comes along with his golden lion eyes and mane of tawny hair. He's as natural as the sun, and treats her as if she's extraordinary. And everything starts to change. As many secrets as Briony has been holding, there are secrets even she doesn't know.
Rating: 3.5 out of 5 boxes
Target Audience: Readers looking for something a little different
High point: The uniqueness of the flow
Low point: It took a little while to get into the rhythm of things
Reader maturity: 13+
Chime
is an absolutely brilliant novel with an emotionally charged plot, surprise ending and a unique voice. The narrator, Briony, was a little hard to follow at first, trying to figure out when she was talking to herself and when she was explaining things to the reader, but once I got the hang of it, I loved how different it sounded from other books I've written. There's a poetry about the narration, a rhythm that appears time and time again, giving a musical quality to the text. Events that ought to have seemed distorted and disorienting find order in the pattern of the words. Even the way that the other villagers speak has a lyrical quality.
Briony is very hard on herself, believing, as she does, that she is wicked and deserves to be hung. But she never comes across as pathetic or needy. She's strong even as she declares to herself her list of sins. Her compassion and cleverness appeal not only to Eldric, but to the reader. Eldric is a fabulous character, as well--charming and warm, the perfect combination to draw Briony out from behind her mask.
It took me quite a while to determine whether or not Briony was crazy or if she was actually living in the same world as everyone else. Her potential unreliability as a narrator made me that much more curious about the conclusion because it casts a shadow on everything she reveals.
Chime
differs from other paranormal novels in that the supernatural elements are relatively minor. Stripped of the bog spirits and Old Ones and set in the present, it would be a compelling and intense contemporary novel.
Chime
is very much about
Briony
and her sister and the strange boy-man who is Eldric rather than the creepy-crawlies of the swamp. Though they're not the main focus, the creepy-crawlies certainly play their part in adding a slightly off-kilter feel to the tale.
The outstanding writing and plot of
Chime
kept me interested and excited during the whole experience, and I highly recommend that anyone who loves paranormal fiction (even a little bit) give it a chance.
Title: Chime
Author: Franny Billingsley
Genre: Fiction - Paranormal
Year: 2011
Book Source: Borrowed from library