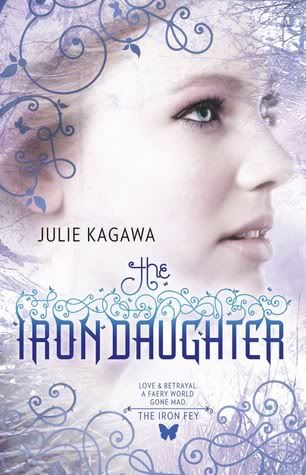 Half Summer faery princess, half human, Meghan has never fit in anywhere. Deserted by the Winter prince she thought loved her, she is prisoner to the Winter faery queen. As war looms between Summer and Winter, Meghan knows that the real danger comes from the Iron fey—ironbound faeries that only she and her absent prince have seen. But no one believes her.
Worse, Meghan's own fey powers have been cut off. She's stuck in Faery with only her wits for help. Trusting anyone would be foolish. Trusting a seeming traitor could be deadly. But even as she grows a backbone of iron, Meghan can't help but hear the whispers of longing in her all-too-human heart.
Rating: 4 out of 5 boxes
Target Audience: Lovers of faery lore, faery newbies
High point: The vibrant action
Low point: Meghan's choice of love interest
Reader maturity: 13+
The Iron Daughter
surprised me in the best ways possible. But first, a little history--I read
The Iron King
, the first book of The Iron Fey series, in 2010, over two years ago. In that two years, I forgot most of the events in
The Iron King
and, since this is a faery series, lost interest in Meghan's tale as well. This was due in part to length of time since reading
The Iron King
but also because faeries/goblins/various other Nevernever beasties aren't my favorite paranormal creatures. However, when I finally got around to reading
The Iron Daughter
, I wished that I had done so much sooner, and I intend to start
The Iron Queen
next.
Some of the things I mentioned in my review of
The Iron King
are true here as well. To paraphrase, I like Meghan as a main character. She's not tough and hard and cynical, like so many other main characters in paranormal YA; she's grown up a bit since
The Iron King
(as would be expected), and though I'm still not rooting for the guy she likes, I admire her attitude. It's a bit sappy, but she makes the right choice when it counts, even when it's hard.
The adventuring through the Nevernever and our world is one of the best aspects of The Iron Fey series. All the creatures came to life, and the writing sucked me into the heart of the action, making this book a great novel to read when I needed to block out everything else. Now that I've finished
The Iron Daughter
, I'm really excited to read
The Iron Queen
.
Title: The Iron Daughter
Author: Julie Kagawa
Genre: Fiction - Paranormal
Year: 2010
Book Source: Won from Princess Bookie