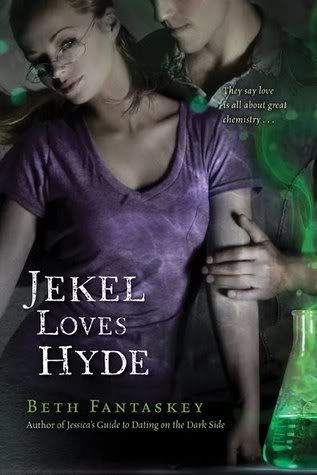 Jill Jekel has always obeyed her parents rules; especially the one about never opening the mysterious, old box in her father's office. But when her dad is murdered, and her college savings disappear, she's tempted to peek inside, as the contents might be the key to a lucrative chemistry scholarship.

To improve her odds, Jill enlists the help of gorgeous, brooding Tristen Hyde, who has his own dark secrets locked away. As the team of Jekel and Hyde, they recreate experiments based on the classic novel, hoping not only to win a prize, but to save Tristen's sanity. Maybe his life. But Jill's accidental taste of a formula unleashes her darkest nature and compels her to risk everything, even Tristen's love just for the thrill of being . . . bad.
Rating: 3 out of 5 boxes
Target Audience: Paranormal readers looking for a new twist on an old tale
High point: The dual perspectives
Low point: Tristen, because he wasn't Lucius
Reader maturity: 17+
Jekel Loves Hyde
wasn't quite what I expected; I thought Hyde would be more like Lucius in
Jessica's Guide to Dating on the Dark Side
, which is an assumption I shouldn't have made, and I had a hard time treating Jill and Tristen as separate characters.
I liked Jill (good girl + good student + glasses), and I liked Tristen (gentlemanly except for that pesky Beast problem), but Jill's forays to the dark side made me uncomfortable. She was such a doormat to start out, and then when she stopped being a doormat, she started handling things in a self-destructive way, which disappointed me. Not every character has to grow the same way, though, and this was the Jill Jekel way. Tristen was a bit too perfect at first (as was Lucius, but Lucius had the excuse of being brought up as
royalty
), but he eventually thawed into a more believable teenage guy. His maturity could certainly be due to years of trying to control the Beast.
All the other characters were almost cartoonish in their extremes as "good" or "bad" or "villain," but with a premise of Jekyll and Hyde's descendants recreating the transformative potion, some level of over-the-top camp is to be expected. I enjoyed going back and forth between Jill and Tristen's POVs; the extra perspective was needed due to the number of secrets everyone was keeping. There were some scenes that could have been very confusing, but Beth Fantaskey did a great job of keeping the action going without it being overwhelming, in part by using the dual perspectives of Jill and Tristen.
Overall, I enjoyed
Jekel Loves Hyde
. If you're looking for paranormal that's a little out of the box,
Jekel Loves Hyde
might interest you, but bear in mind that there's some swearing and several mentions of sex.
Title: Jekel Loves Hyde
Author: Beth Fantaskey
Genre: Fiction - Supernatural, Contemporary
Year: 2010
Book Source: Purchased