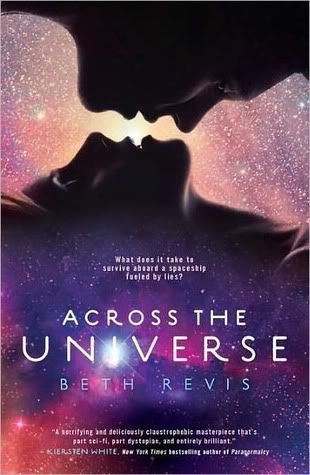 A love out of time. A spaceship built of secrets and murder.

Seventeen-year-old Amy joins her parents as frozen cargo aboard the vast spaceship Godspeed and expects to awaken on a new planet, three hundred years in the future. Never could she have known that her frozen slumber would come to an end fifty years too soon and that she would be thrust into the brave new world of a spaceship that lives by its own rules.

Amy quickly realizes that her awakening was no mere computer malfunction. Someone-one of the few thousand inhabitants of the spaceship-tried to kill her. And if Amy doesn't do something soon, her parents will be next.

Now Amy must race to unlock Godspeed's hidden secrets. But out of her list of murder suspects, there's only one who matters: Elder, the future leader of the ship and the love she could never have seen coming.
Rating: 2.5 out of 5 boxes
Target Audience: Sci-fi fanatics
High point: The workings of life on the ship
Low point: Amy
Reader maturity: 15+
Due to the beautiful cover and the glowing reviews of the book review bloggers I follow, I had such high hopes for
Across the Universe
. Longtime readers of
this
blog know my aversion to male POVs, and about 50% of
Across the Universe
is narrated by a teenage boy, Elder.
I liked Amy's point of view well enough, but Amy was something of blank canvas to me. I didn't
get
her. Elder and his friend, Harley, had much more interesting personalities.
As for the plot, it reminded me of
Inside Out
by Maria J. Snyder, and I had to actively refocus myself on
Across the Universe
as a completely different novel. (I realize that this isn't the fault of
Across the Universe
, but it may explain my feelings towards the characters.) I also figured out everything involving Eldest from the beginning, although it took me almost 75% of the book to figure out the rest.
Though I'm not a fan of Amy or the male POV, I have to admit that I'm interested to know what happens next. I didn't agree with Amy's decision at the end of Across the Universe, and I'd like to see how that plays out in the next part of the series.
Title: Across the Universe
Author: Beth Revis
Genre: Fiction - Science Fiction
Year: 2011
Book Source: Borrowed from library