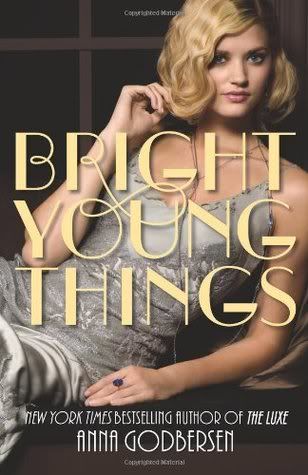 The year is 1929. New York is ruled by the Bright Young Things: flappers and socialites seeking thrills and chasing dreams in the anything-goes era of the Roaring Twenties.

Letty Larkspur and Cordelia Grey escaped their small Midwestern town for New York's glittering metropolis. All Letty wants is to see her name in lights, but she quickly discovers Manhattan is filled with pretty girls who will do anything to be a star. . . .

Cordelia is searching for the father she's never known, a man as infamous for his wild parties as he is for his shadowy schemes. Overnight, she enters a world more thrilling and glamorous than she ever could have imagined—and more dangerous. It's a life anyone would kill for . . . and someone will.

The only person Cordelia can trust is ­Astrid Donal, a flapper who seems to have it all: money, looks, and the love of Cordelia's brother, Charlie. But Astrid's perfect veneer hides a score of family secrets.

Across the vast lawns of Long Island, in the ­illicit speakeasies of Manhattan, and on the blindingly lit stages of Broadway, the three girls' fortunes will rise and fall—together and apart. From the New York Times bestselling author of The Luxe comes an epic new series set in the dizzying last summer of the Jazz Age.
Rating: 4 out of 5 boxes
Target Audience: Historical fiction and fashion fans
High point: The multi-POV format
Low point: Serendipity
Reader maturity: 15+
I love historical fiction, and when I saw the spate of Jazz Age themed fiction published in the last few years, I knew I needed to get my hands on it. Fast forward to 2012, and I've had a few run-ins with less-than-captivating 1920s fiction. But when I saw this one the shelf at the library, I just couldn't resist...and I'm so glad I didn't try!
Bright Young Things
had me intrigued from the last paragraph of the prologue.
Some readers may find this off-putting, but I loved the fashion descriptions included about the characters, male and female. It really helped me put together a picture of the girls' transformations from country bumpkins to city slickers and gave me a snapshot of the bootleggers and gangsters of the period.
Astrid was my favorite character. Although the most spoiled of the three, she had the most conviction and spirit. Cordelia was pretty selfish, and Letty didn't have much force of personality. Together, however, they create a compelling story, and even though I liked Astrid the most, I enjoyed the other girls' stories because they show three different views of the era. The girls are the most developed characters, although they still feel fairly shallow. After some thought, I've decided that this was purposeful. The rest of the story is too well thought out and executed for shallow characters to be anything other than intentional. The reader gets to know the girls and secondary characters only as well as the characters allow and certainly no better than the girls know each other. They do, after all, have to keep up appearances, regardless of their personal trials.
My only issue with
Bright Young Things
is that an awful lot of things seemed extremely serendipitous, but I guess that makes for a more interesting story, right? What fun would it be to read about girls who ended up slinking home in shame because they couldn't make it in New York?
While reading it, I didn't realize that
Bright Young Things
is the first in a series (it's complete enough to work as a stand-alone novel), but I was really excited to discover it while preparing this post. I can't wait to find out what happens next!
Since it's set during the Roaring '20s, there are frequent mentions of alcohol and loose living, but there's nothing explicit. Keep in mind, though, that the entire book revolves around speakeasies and bootleggers so it may not be appropriate for the youngest YA readers.
Title: Bright Young Things
Author: Anna Godbersen
Genre: Fiction - Historical
Year: 2010
Book Source: Borrowed from library