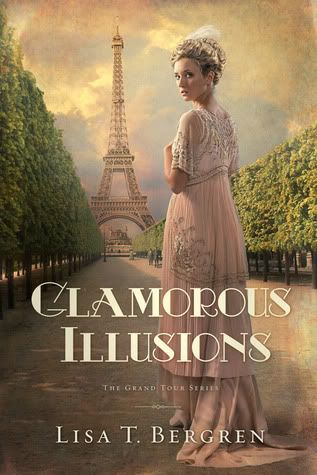 It's the summer of 1913 and Cora Kensington's life on the family farm has taken a dark turn. Not only are the crops failing, but someone dear to Cora is failing as well.

In one fateful afternoon, a stranger comes to call, and Cora discovers a terrible secret about her past…a secret that will radically change her future.

Cora is invited to take the "Grand Tour" of Europe, a journey intended to finish a person's eduction, to solidify an understanding of ancient culture and contemporary refinement. As she travels from England to France, with kin she's never known, Cora encounters the blessings of a family name, as well as the curses. But when an unbidden love begins to form, she realizes the journey is only beginning…
Rating: 4.5 out of 5 boxes
Target Audience: Historical fiction buffs
High point: Cora
Low point: I don't know if the next book is about Cora!
Reader maturity: 13+
I'm not a huge fan of Christian fiction (although I make an exception for Siri Mitchell's work) so when I realized that
Glamorous Illusions
falls into that genre, I wasn't sure I wanted to finish. Lucky for me, I gave it a chance because it's one of the best books I've read in 2012!
First off, I love historical fiction, which is why I downloaded the ebook in the first place. The prewar 1910s are underrepresented (at least in the fiction I read) so I jumped on the chance to get to read about a Grand Tour in Europe.
Secondly, the heroine not only sounds cool from the back cover (farmgirl from Montana thrust into money and high society), but she's actually pretty cool in the rest of the novel. Cora is a character that girls (and women) of today will be able to relate to with ease. She's self-doubting but finds inner strength, cautious but ultimately unafraid and sensible (well…most of the time). She also has a solid moral compass that allowed me to enjoy the novel more fully. She was placed in a few awkward situations with eager suitors where, in my experience, most heroines would then succumb to the advances of the man in question. [Possible spoiler] What I like about Cora is that she
doesn't
. She's not judgmental or preachy about her morality; however, she knows that there is right and there is wrong and she
lives
it, without further ado.
Third, Cora tackles several hurdles in
Glamorous Illusions
. Betrayal, forgiveness and humility all play a strong role. Though there is a lot going on with Cora's family and many emotions to process, they never become muddled or overwhelming. The references to faith are frequent, but the novel never proselytizes.
Fourth, the writing was fantastic. Not only is Cora a beautifully explored character, Will is, as well. He's one of my favorite love interests in all of fiction, although I'm interested to see what becomes of another one, Pierre.
Glamorous Illusions
takes place in Montana, England and France so there are many mentions of foreign places, but it isn't too heavy on description. The plot engaged me, dulling the outside world until I tuned everything else out, which is a rare and admirable quality in a book.
Whether or not you're a fan of Christian fiction, if you like historical novels or light drama that's all-age appropriate, then I highly recommend
Glamorous Illusions
. Since it's referred to as
Glamorous Illusions
(Grand Tour Series #1), I'm hoping there are more novels to come. I'm eager to know what becomes of Cora (and especially Cora and Will) on the rest of her European Tour.
Title: Glamorous Illusions
Author: Lisa T. Bergren
Genre: Fiction - Paranormal
Year: 2012
Book Source: Downloaded free from Amazon.com