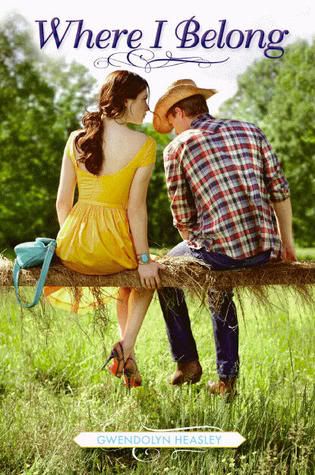 Corrinne Corcoran's upscale Manhattan life is perfectly on track—until her father announces he's been laid off and she's shipped off to Broken Spoke, Texas, to live with her grandparents. All alone in a big public school and forced to take a job shoveling manure, Corrinne is determined to get back to the glamorous life she's supposed to be living. But as she grudgingly adjusts—making new friends and finding romance along the way—this city girl begins to realize that life without credit cards and shopping sprees may not be as bad as it seems....

In this sparkling debut that flawlessly balances romance and humor, readers will grow to love sharp and sassy Corrinne as she goes on her totally reluctant but completely irresistible journey of self-discovery.
Rating: 3 out of 5 boxes
Target Audience: City slickers
High point: Corrinne's natural transformation
Low point: The dialogue
Reader maturity: 13+
Where I Belong
is the perfect book to curl up with on a summer afternoon. It's set during high school football season, but the warm atmosphere and slow drawls are perfect for relaxing.
Where I Belong
chronicles the metamorphosis of Corrinne as she is forced from her spoiled city life into the heart of the country. Stubborn and prideful, she digs her heels in (so to speak) against enjoying anything related to Texas, but when she finally changes her mind, the transformation feels very natural. It's not rushed; it's all on Corrinne time. It's hard to say that I liked Corrinne since she spent most of the novel complaining about moving to (what she considered) the middle of nowhere, but after she accepted her situation and moved on with her life, her kind, intelligent side made an appearance and allowed her to shine. I really liked her no-nonsense grandparents, peppy best friend and sweet younger brother. They make things just the teensiest bit corny but in a warm-fuzzy, feel-good way.
The only complaint I have is that the dialogue of the Texans is very formal. I read it in every twang and drawl I could think of, and I never got it to sound quite right in my head. I don't know if the problem is on my end or if there really did need to be more contractions. Since the New Yorkers all sounded just fine, I'm inclined to lean towards the former possibility.
Where I Belong
is a sweet, refreshing bite for a lazy afternoon in the sun. Lots of spice and a little sugar make it a great light read with enough substance to be satisfying.
Title: Where I Belong
Author: Gwendolyn Heasley
Genre: Fiction - Contemporary
Year: 2011
Book Source: Purchased