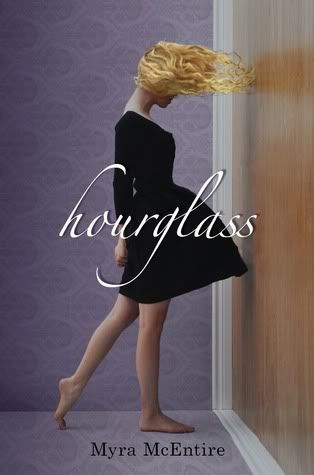 For seventeen-year-old Emerson Cole, life is about seeing what isn't there: swooning Southern Belles; soldiers long forgotten; a haunting jazz trio that vanishes in an instant. Plagued by phantoms since her parents' death, she just wants the apparitions to stop so she can be normal. She's tried everything, but the visions keep coming back. So when her well-meaning brother brings in a consultant from a secretive organization called the Hourglass, Emerson's willing to try one last cure. But meeting Michael Weaver may not only change her future, it may change her past.

Who is this dark, mysterious, sympathetic guy, barely older than Emerson herself, who seems to believe every crazy word she says? Why does an electric charge seem to run through the room whenever he's around? And why is he so insistent that he needs her help to prevent a death that never should have happened?
Rating: 4.5 out of 5 boxes
Target Audience: Ghost story fans, time travel fans, maybe even sci-fi fans (and anyone who likes reading YA ever)
High point: Emerson Cole--she's awesome!
Low point: Emerson Cole falling head over heels
Reader maturity: 13+
I love
Hourglass
!
Emerson Cole is one of my favorite YA characters
ever
. She's smart and funny and a little bit sarcastic but still sweet and thankful and well-adjusted, all considered. All those adjectives I just used combine to make a fictional teenage girl who could easily be a real teenage girl.
My only complaint (which I'll get out of the way first) is that I wanted to know more about Emerson's best friend, Lily. There's something going on there and Myra McEntire teases the reader and doesn't give up much in the way of information. I hope we find out more about Lily in
Timepiece
!
If you've been with me at Bookish in a Box in a while, you'll know that I have a few bookish pet peeves. One of them is when the characters (especially young ones) fall in love instantly. Em
does
fall head over heels pretty fast, but she regularly acknowledges that it was a) fast and b) potentially not possible. Her wonderment over this development occurs so frequently that I'm inclined to overlook it as a fault. At least she realizes it's not
normal
, right? (You
know
if someone can convince me to overlook insta-love, the book must be good.)
I also love Em's brother and sister-in-law (they're so supportive!); they're a refreshing change of pace from the absentee or absent-minded parents in most YA fiction. The villains in this story are a little cheesy, but they kind of rock the cheesy...AND I was surprised by the ending. If the villain has me fooled, I'm impressed, regardless of how melodramatic they are.
So there you have it!
Hourglass
is an all-around good book, with a solid (and surprising) plot, a love story, a great supporting cast and a main character that you'd want to be friends with. If you ever looked at the cover and thought, "Hmm, that looks like it might be good," please, please, please run out and get it right now because it's awesome.
Title: Hourglass
Author: Myra McEntire
Genre: Fiction - Paranormal
Year: 2011
Book Source: Purchased