Love of reading (and history) runs in the family! Today, I'm featuring one of my mom's recent reads.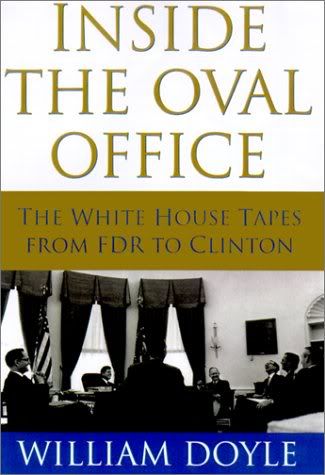 In 1940, inventor J. Ripley Kiel was taken by Secret Service men to the Oval Office, where he planted a microphone in FDR's desk lamp and connected it to an experimental sound recording machine. Since that day, almost every president has found some use for recording, sometimes covertly, sometimes not. The tapes and transcripts left behind from this sixty-year recording experiment are a cockpit voice recorder of the presidency, time capsules from crucial moments in American history. During four years of research in the National Archives and Presidential Libraries, William Doyle unearthed scores of White House tapes and transcripts, many never before published. He interviewed over one hundred Oval Office insiders, Cabinet members, and White House aides, from FDR's personal secretary to Henry Kissinger. Inside the Oval Office is the result, a flesh-and-blood drama of the presidency in action.
Rating: 4 out of 5 boxes
Politics is not of great interest to me, but history is.
I was pleased while reading this book to find it contained much more of the history of the White House than the politics.
The author gave a synopsis of each president's executive style.
This was not to create a political discussion, but to explain how each person utilized the rooms in the White House according to personality or need and to explain what each one taped and why.
Because of these tapes we have a piece of history preserved in time.
The White House is a transient home to our Presidents and their families.
I enjoyed reading how each family created a home there for 4-12 years and then turned it over to the next occupant with either grace or grudge.
The book belongs to my husband.
He asked me if I had read it and I had not because I didn't think it sounded interesting, but I'm glad I gave it a try.
Well written, never dull.
I would highly recommend to anyone interested in history or bibliographies.
Title: Inside the Oval Office: The White House Tapes from FDR to Clinton
Author:
William Doyle
Genre: History, Nonfiction
Year: 2002
Book Source: Received as a gift