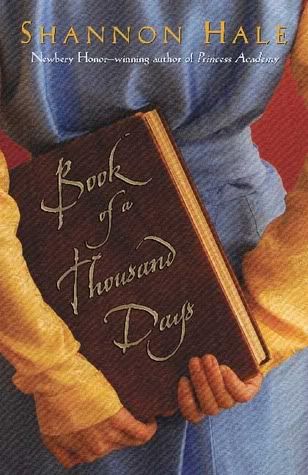 When Dashti, a maid, and Lady Saren, her mistress, are shut in a tower for seven years for Saren's refusal to marry a man she despises, the two prepare for a very long and dark imprisonment.
As food runs low and the days go from broiling hot to freezing cold, it is all Dashti can do to keep them fed and comfortable. But the arrival outside the tower of Saren's two suitors--one welcome, and the other decidedly less so--brings both hope and great danger, and Dashti must make the desperate choices of a girl whose life is worth more than she knows.

With Shannon Hale's lyrical language, this forgotten but classic fairy tale from the Brothers Grimm is reimagined and reset on the central Asian steppes; it is a completely unique retelling filled with adventure and romance, drama and disguise.
Rating: 4 out of 5 boxes
Target Audience: Fans of sweet romance and historical fiction
High point: Dashti's wit and charm
Low point: Lady Saren was really quite annoying
Reader maturity: 13+
Book of a Thousand Days
is a positively enchanting story. Though it took me a few chapters ("days" in fictional time), it soon won me over with its charm and unique story.
I had no idea being locked away in a tower could be so dramatic! But Dashti's wit and tales of muckers, as well as her mistress' insistence that she take on a noble identity, enliven their stay. The threads of this tale are delicately woven. The mysteries are solved in due time, and the romance is one of my all-time favorites. In a case where the reader knows more than the characters, the reader is rooting for a happy ending. Some might consider the pace slow, but I thought it deliberate, giving each element its time to develop and shine.
Book of a Thousand Days
is a beautiful story based loosely on Mongolian myth that brings folklore and legend to life.
Title: Book of a Thousand Days
Author: Shannon Hale
Genre: Fiction - Fantasy
Year: 2007
Book Source: Purchased