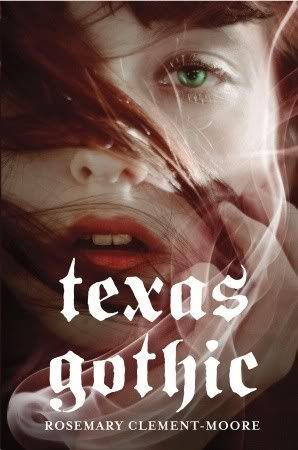 Amy Goodnight's family is far from normal. She comes from a line of witches, but tries her best to stay far outside the family business. Her summer gig? Ranch-sitting for her aunt with her wacky but beautiful sister. Only the Goodnight Ranch is even less normal than it normally is. Bodies are being discovered, a ghost is on the prowl, and everywhere she turns, the hot neighbor cowboy is in her face.
Rating: 5 out of 5 boxes
Target Audience: Ghost story enthusiasts
High point: Amy, the ghosts, sister Phin...
Low point: Nothing. I LOVE THIS BOOK.
Reader maturity: 13+
There are so many great things about
Texas Gothic
, I hardly even know where to begin...
First off, it's a ghost story--a
good
one. It's not cheesy or formulaic (beyond the normal amount of formula for ghost stories--sighting, haunting, revelation of mystery, ghost is gone, voila!) and mixes in a heaping helping of skepticism from a lot of different angles that keep it feeling fresh and, dare I say,
realistic
.
Second, there's Amy, who is the type of main character that I would really, really like to be friends with (although, truth be told, I'm more likely to friends with her sister, Phin, the science-y, nerdy one). She's polite, smart, fiercely protective and stubborn when she needs to be. She's also the liaison between her family and...everyone else, which makes her more world-wise than most people her age.
Third, there's Ben (the hot neighbor cowboy mentioned in the blurb), who I maybe shouldn't like as much as do, him being so gruff and cocky and occasionally rude and all, but...well, if you read
Texas Gothic
, you'll understand why I like him so much. (I almost made this point seven, but this is getting a bit long, so I'll add here that I also love the other characters in
Texas Gothic
. They're a motley crew of unique personalities that each hold their own. Fantastic!)
Fourth, the title rocks. It caught my eye in the library because the state of Texas isn't usually associated with anything Gothic. How could I pass it up?
Fifth, it handles the Texas part well. A lot of novels set in Texas make me wonder if the authors have actually ever been there....But
Texas Gothic
uses the history of the conquistadors and missions in Texas to craft a great story.
Sixth, there are so many little details and elements in
Texas Gothic
that make it come alive. It's not just a story that jumps from point A to point B; there are lots of little zigs and zags and emotional elements that combine for something rich and intricate.
(So, apparently I figured out where to begin...)
Texas Gothic
is AMAZING. If you like ghost stories, even a little bit, you need to read
Texas Gothic
. If you don't necessarily like ghost stories but you like archaeology (yes, archaeology--I told you, awesome zigs and zags!), you need to read
Texas Gothic
. And if you like neither of those things but you like a good book, then you also need to read
Texas Gothic
.
Title: Texas Gothic
Author: Rosemary Clement-Moore
Genre: Fiction - Supernatural
Year: 2011
Book Source: Borrowed from library