Love of reading (and history) runs in the family! Today, I'm featuring one of my mom's recent reads.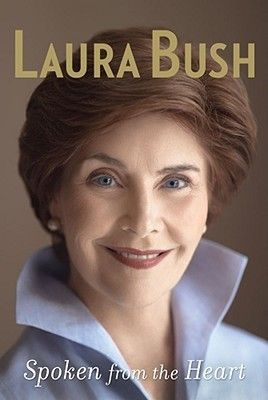 The intimate and startlingly candid memoir from one of America's most beloved and private first ladies.
In a captivating and compelling voice that ranks with many of our greatest memoirists, Laura Bush tells the story of her unique journey from dusty Midland, Texas, to the world stage and the White House. Her compassion, her sense of humor, her grace, and her uncommon willingness to bare her heart make Laura Bush's story deeply revelatory, beautifully rendered, and unlike any other First Lady's memoir ever written.
Rating: 4 out of 5 boxes
No one's story is theirs alone.
In telling the story of her hometown, its people, jobs, economy, history and neighborhoods, Laura Bush told her story.
I enjoyed the way she described who she became by describing the influences around her.
The book appeared to be honestly written.
Ms. Bush did not leave out or glaze over her father's drinking and gambling, her husband's alcohol use, nor the tragic accident that took the life of a friend; yet, she was gracious in writing about those in the realm of politics for whom she did not particularly care.
I enjoyed the book and Laura's story.
While reading it, I was disappointed each time I had to put it down and anxious to get back to it to see "what happened next".
Perhaps it was partly because this is an All American Girl story.
She was the average girl growing up in the 50's and 60's, yet it was also an American Dream story.
She married the future President of the USA and was privileged to meet Kings and Queens and influence initiatives; yet she appears to still be grounded and grateful.
I would definitely recommend as a good read if you enjoy autobiographies and/or history whether you are interested in politics or not.
Title: Spoken from the Heart
Author:
Laura Bush
Genre: History, Memoir
Year: 2010
Book Source: Borrowed