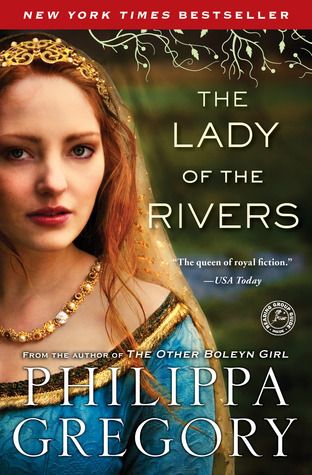 A story rich in passion and legend, The Lady of the Rivers is the story of Jacquetta, Duchess of Bedford, a woman who navigated a treacherous path through the battle lines in the Wars of the Roses. When Jacquetta is married to the Duke of Bedford, English regent of France, he introduces her to a mysterious world of learning and alchemy. Her only friend in the great household is the duke's squire Richard Woodville, who is at her side when the duke's death leaves her a wealthy young widow. The two become lovers and marry in secret, returning to England to serve at the court of the young King Henry VI, where Jacquetta becomes a close and loyal friend to his new queen.

The Woodvilles soon achieve a place at the very heart of the Lancaster court, though Jacquetta can sense the growing threat from the people of England and the danger of their royal York rivals. As Jacquetta fights for her king and her queen, she can see an extraordinary and unexpected future for her daughter Elizabeth: a change of fortune, the throne of England, and the white rose of York. . . .
Rating: 3 out of 5 boxes
Target Audience: Die-hard history fans
High point: Bringing Jacquetta out of the past
Low point: Very confusing historical setting
Reader maturity: 13+
The War of the Roses is complicated. Even the helpfully-included genealogical charts in
Lady of the Rivers
weren't enough for me to keep it straight. Wikipedia was even less helpful. so, strike #1 right there, I was confused. Alliances were made and broken in an instant, and it was too much for me to keep straight. It did, however, give me an appreciation of Philippa Gregory's research abilities and made me wonder how anyone in England ever survived.
One of the things that I liked about
Lady of the Rivers
is how Philippa Gregory took a relatively minor historical figure and brought her to life. As I understand it, not much is known about the real Jacquetta, but the the fictional version is a fascinating creature, both unusually powerful and unusually bold for her time. (She was also unusually lucky!)
Those without an interest in history may find Jacquetta's story dry and factual, but those who enjoy historical fiction (and, perhaps, have a better grasp on English history than I do) would do well to try out this addition to the series on The Cousins' War.
Title: The Lady of the Rivers
Author: Philippa Gregory
Genre: Fiction - Historical
Year: 2012
Book Source: Won from The Eclectic Reader