Love of reading (and history) runs in the family! Today, I'm featuring one of my mom's recent reads.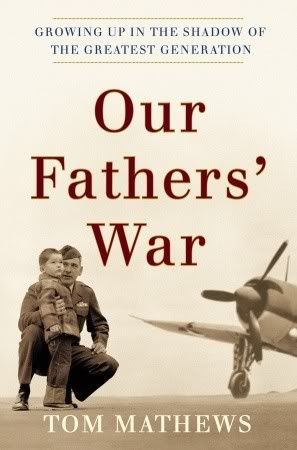 A powerful and unique portrait of generational strife and changing styles of masculinity as seen through the stories of ten World War II veterans and their baby boomer sons.
It is fair to say that Tom Mathews's relations with his father, a veteran of World War II's fabled 10th Mountain Division, were terrible. He came back from the war to a young son he'd barely met and proceeded to bully and browbeat him—for his own good, he thought. In the course of puzzling out almost fifty years of intermittent conflict, Mathews came to understand that their problems were not simply personal, they were generational—and widely shared by millions of other baby boomer sons. And so, to write this powerful book, which traces the kinetic effect of the war on the men who fought it, their sons, and their grandsons, Mathews has uncovered nine other dramatic and telling father-son tales of veterans in some ways missing in action and how internal war wounds shaped their lives as fathers. These include a combat infantryman whose life was saved by the fabled Audie Murphy, and a black member of the storied Tuskegee Airmen corps. In a moving final chapter, he and his father return together to Italy to revisit scenes from the war—and attempt, at long last, to forge their own separate peace.

In a very real sense,
Our Fathers' War
tells the secret history of World War II and its echoes down the years and generations. In the course of doing so, it offers a portrait of evolving styles of American manhood that many, many fathers and sons have been needing and awaiting.
Rating: 3 out of 5 boxes
Our Fathers' War is a study of an interesting theory about fathers of World War II and why they cannot connect to their sons. Why they came home from war and pushed them away. Why the sons feel they are never good enough and rebel.
Upon reading the first few stories, I thought these fathers and sons could be any family in any generation. Could not their fathering be the result of personality, their own upbringing, and other influences that make us the parents we are? But after reading Mathews interview with the poet, I understand what Mathews was describing; the horrors of war that cannot be spoken, closed down emotions which created fathers and husbands who could never reach a potential. A generation who possessed this specific reason for being the fathers they were. How many generations did this emotionless form of fathering influence? Mathews touches on this in several multi-generational interviews.
The book is composed of well written narratives about real people and the strong forces that molded them into the fathers and sons they were. The final narrative is a touching ending for the author and his father who created their own strong force to counteract the emotions and scars of war.
The book has quite a bit of rough language which I would prefer to have been left out, but I understand that it is a book about real people and this is how they spoke.
Thought provoking book that I will read again in order to see what I might have missed the first time.
Title: Our Fathers' War
Author:
Tom Mathews
Genre: History, Memoir
Year: 2005
Book Source: Received as a gift