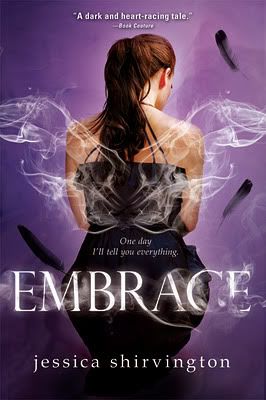 It starts with a whisper: "It's time for you to know who you are…"

Violet Eden dreads her seventeenth birthday. After all, it's hard to get too excited about the day that marks the anniversary of your mother's death. As if that wasn't enough, disturbing dreams haunt her sleep and leave her with very real injuries. There's a dark tattoo weaving its way up her arms that wasn't there before.

Violet is determined to get some answers, but nothing could have prepared her for the truth. The guy she thought she could fall in love with has been keeping his identity a secret: he's only half-human—oh, and same goes for her.

A centuries-old battle between fallen angels and the protectors of humanity has chosen its new warrior. It's a fight Violet doesn't want, but she lives her life by two rules: don't run and don't quit. When angels seek vengeance and humans are the warriors, you could do a lot worse than betting on Violet Eden…
Rating: 1.5 out of 5 boxes
Target Audience: Cocky, swooning teenage girls
High point: Violet has some mad athletic skills
Low point: That it's about angels, mostly
Reader maturity: 15+
I tried very hard to enjoy
Embrace
, but it's just not my kind of novel.
The one thing that I
did
like is how strong Violet is, and I mean, literally,
strong
. She kickboxes, she runs, she climbs--there's very little, physically, that she can't do. It's great to have such a warrior nature for a YA heroine, and her motivations to become so physically skilled are realistic and thoughtfully expressed.
The first thing I didn't like is that it's an angel novel--and not the kind where I could pretend that the mythology is about a paranormal creature that goes by that name. This alone is enough to tarnish the rest of the book for me, so keep that in mind as you read my next two points.
Second, the love interest is too perfect, the idolized version of a middle school crush. In addition, he's too old for Violet. There is a love triangle (which I always, as a general rule, dislike). The third corner of that triangle is
also
too old. The creepy factor was through the roof for me. Violet, her best friend and her father didn't seem the least bit concerned about any of it, which bothered me even more.
Third, Violet isn't a character I can relate to. She's overconfident, unforgiving and thinks that, at seventeen years old, she knows better than everyone else around her. While I see the potential for this to forge a connection with the intended audience, I found it irritating.
I have no quarrel with the quality of the writing, but unfortunately,
Embrace
just wasn't the book for me. I've linked to the (mostly positive) reviews on Goodreads in case you'd like some other opinions on the book:
Embrace reviews
Title: Embrace
Author: Jessica Shirvington
Genre: Fiction - Paranormal
Year: 2012
Book Source: Won from Page Turners