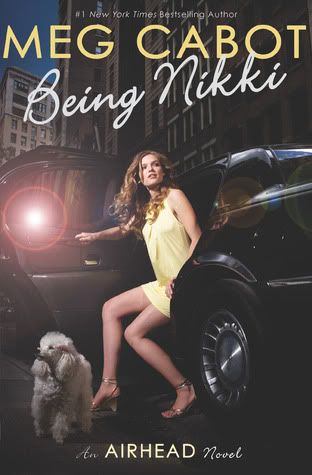 Things aren't pretty for Emerson Watts.

Em was sure there couldn't be anything worse than being a brainiac the body of a teenaged supermodel.

But it turned out she was wrong. Because that supermodel could turn out to have a mother who's gone mysteriously missing, a brother who's shown up on her doorstep demanding answers, a former best friend who's intent on destroying Stark Enterprises to avenge the death of his lost love, and a British heartthrob who's written a song about her that's topping the charts.

How can Em balance all that with school, runway shows, and weekend jaunts to St. Johns — especially when she's got ex-boyfriends crawling out of the woodwork who want more than just a photo op; a sister who is headed to the high school cheerleading championships; a company she represents that seems to be turning to the dark side...

Not to mention trying to convince the love of her life that models aren't really airheads after all...especially one model in particular.

But then, nobody said it was going to be easy being Nikki.
Rating: 3.5 out of 5 boxes
Target Audience: Teens and Meg Cabot fans
High point: Uniqueness of plot, more engaging than Airhead
Low point: Missing some of the pizazz that Cabot's other books contain
Reader maturity: 10+
Being Nikki
is even better than the first in the series. I enjoyed
Airhead
, but I didn't enjoy it the way I do most of Meg Cabot's books...or the way I enjoyed
Being Nikki
.
Because the science and story have already been established,
Being Nikki
is free to indulge not only in guy-chasing, but family drama (from both of Em's families!) and the big, dark secret of Stark Enterprises. Nikki's life is transformed from one of luxury and great lighting to one of secrecy and intrigue, which makes the series much more interesting. Before, it was fun, albeit fluffy, but now it's taken to a whole new level of awesome with layers of mystery and romance.
The cast of characters in
Being Nikki
is awesome; I love how they react when they're thrown together. They're not a big, happy family, and yet they're a boisterous, entertaining mix. I can't say too much more on this point without there being MAJOR spoilers, so I'll just say that Meg Cabot did a great job with plot and character development.
Even though it's a touch more serious than its predecessor,
Being Nikki
had me laughing aloud more than once (which made me really glad I wasn't reading it in public). Em possesses great wit, and Lulu is the perfect counterpoint.
Now that I've read
Being Nikki
, I'm really excited about the Airhead series. Fortunately, I have an ARC of the third in the series,
Runaway
, tucked away that I
can't wait
to read. I want to know what happens next!
Title: Being Nikki
Author: Meg Cabot
Genre: Teen Fiction, Entertainment and Arts
Year: 2010
Book Source: Borrowed from library