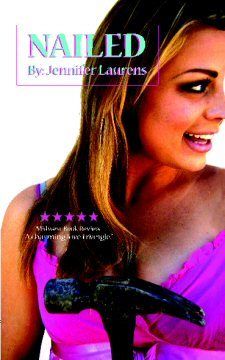 One girl. Two guys. Who says three's a crowd? When Mandy takes an unusual summer job-in construction-she has to prove she's just one of the guys. But she gets more than she bargains for being the only girl on the job. The mixture of hot guys, sunscreen, raw wood and testosterone proves to be an elixir she can't protect her heart from. Brooding Boston and flirty AJ find themselves looking at Mandy as more than just a girl who holds a hammer. Mandy soon finds herself not only lost in a whirlwind of a male-dominated world, but also the center of an inadvertently "constructed" love triangle. Mandy must choose between two guys who want her heart. But what's a girl to do when she wants them both?
Rating: 2 out of 5 boxes
Target Audience: YA contemporary readers
High point: The messages
Low point: Mandy's cluelessness
Reader maturity: 15+
I really enjoyed
Heavenly
and
A Season of Eden
by the same author, but
Nailed
didn't connect with me as a reader.
While it's great to read about nonconformist female characters, Mandy was frustratingly oblivious and naive. (For example, she wears an actual swimsuit to a construction site and doesn't understand how that could be a problem working with a group of guys.) I like the messages of self-respect, following one's dreams and not settling for the wrong guy, but I couldn't connect with Mandy enough to enjoy it.
Mandy also didn't understand prejudice against women at the work site. While she has a point in that gender
shouldn't
matter, I found it hard to believe that she had grown up around construction and yet had no expectation of discrimination. My frustration with Mandy aside, her best friend was really fun, and the character of her brother was well-developed as he seesawed between the protector and the antagonist, depending on his mood.
Title: Nailed
Author: Jennifer Laurens
Genre: Fiction - Contemporary
Year: 2008
Book Source: Purchased